Many of you mentioned first-class upgrades that you'd been able to obtain "by hook or by crook" when we remembered the beloved 747 flights to Hawaii and 757 flights to Hawaii. So it made us think about that subject and how it works in today's very different air travel environment. We are also to share our tips on moving to the front of the plane.
How often have you walked by or looked into first class, wondering…
…what would it take to be seated in the larger seats with legroom, perhaps even a bed, with being able to enjoy vastly improved dining, plus luxury lounges and other amenities? And what about those people turning left to enter an elite cabin when you had to turn right and face the barrage of economy seats on the flight to Hawaii?
Yes, first-class upgrade to Hawaii (or business class): we're a living testament to that.
There's no doubt that the easiest way to score that upgrade is to be a frequent flyer. But the reality is we aren't all frequent flyers. All the airlines offer upgrades to those special folks, depending on the circumstances. However, Hawaii is typically a harder route to draw the upgrade card, so be forewarned.
Factors include actual seat availability, the highest ranking frequent flyer, and whether you have the airline's branded credit card. Each airline prioritizes upgrades differently, and it's good to get to know the rules on the one with which you plan to upgrade.
Upgrades, in our experience, can occur at any point from the time of ticket purchase until the last minute when you've already taken an economy seat, and your name is called to move up.
Because upgrades are so variable, we'd suggest you first check online for your reservation to see what's possible. Then pick up the phone and talk with the airline's call center to inquire further about how their upgrades work.
If nothing pans out in advance, be sure to be online exactly 24 hours before departure and see what is offered during check-in. Afterward, head to the airline ticket counter before your flight and ask again.
You can still get an upgrade if you are not an elite flyer. Here's how.
We often use a combination of cash and airline miles to upgrade, including on international flights. An airline-branded credit card can accumulate miles to use with that airline or a partner carrier. What's worked great for your editors with both the Alaska Air credit card and the Hawaiian Airlines credit card. We've also taken advantage of their relationship with international carriers to be able to upgrade flights to Europe.
Tip:  If you know from the beginning that you'll be doing a mileage upgrade, our experience is that it is best to book those as far in advance as possible. That means 330-days ahead of your flight. Mileage upgrades that far in advance may either have more availability or be at a lower mileage requirement than if you wait. That is almost always the case.
Editor Jeff scored an upgrade from the cheapest economy ticket to first class on Hawaiian between Sydney and Honolulu for 45k HawaiianMiles. Those miles having a value of $450 made the total cost of first-class less than 1/3 the price the airline was charging to buy it outright.
Bidding for upgrades is another way to score potentially lower-cost upgrades. Hawaiian airlines is one airline that offers that. Air Canada and Westjet do as well. We've tried it, but so far, it hasn't worked for us.
Upgrade based on an oversold flight? Not too likely, but…
Someone mentioned in a comment that they always try to book flights that are more likely to be oversold. When that happens, airlines may offer you another flight, and perhaps even in first class.
Try negotiating for that perk, or they might move you to an empty first-class seat if it exists on your scheduled flight when economy is sold out. Here too, we've both had these bumping experiences that worked. Editor Jeff was upgraded to first class when he was the last to board in economy. That was several years ago, on a Continental DC-10 from Los Angeles to Honolulu. It was elegant, and it cost nothing.
But keep in mind that the chances of being bumped are extremely low when flying on Alaska, Hawaiian, and Southwest. Of the majors, the most likely airline on which to get a bump upgrade is American. Has that ever happened to you?
Getting an airline upgrade takes time, but it's worth it to us.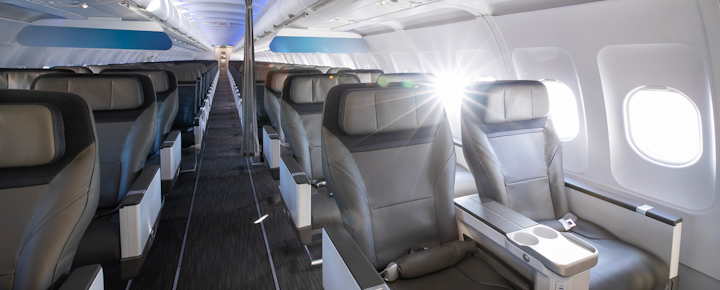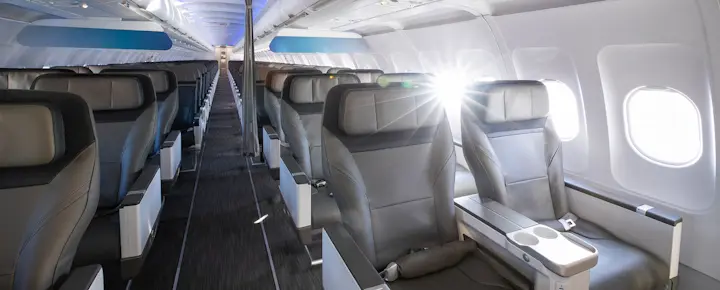 BOH editor Jeff is a guru when it comes to scoring upgrades on airlines. He's always researching it online to see what others have been able to accomplish. Jeff's scored a range of first-class upgrades that include many Hawaii flights (on Alaska, American, Delta, Hawaiian, and United). Also internationally on British Airways, Qantas, and others. He makes it a game so doesn't resent the time it takes. Sometimes, he has to check literally hundreds of times to wait and see when an upgraded seat opens up. But honestly, it was worked far more times than it has not. So don't despair.
Does saying you're on a honeymoon get you anywhere?
Other than perhaps a congratulations, no, it does not.
How tightly are upgrades controlled, and who has authority?
In most but not all cases, flight attendants are incapable of offering an upgrade. The same may or may not be true of the gate agent.
Should you dress a certain way to improve your chances?
Well, not exactly. While having noticeably inappropriate clothes will probably hinder your changes, dressing to the nines won't do much for you. We may be going against popular thinking here, but dressing and acting nicely on flights will always work in the passenger's favor.
Today's lead photo description.
Lead photo of BOH editor Rob. On the way home to Honolulu via Singapore, he scored an upgrade to regional business class on Singapore Airlines A350. Flying in the US, the price is always the same no matter whether you start in Hawaii or on the mainland. Internationally that isn't the case. He chose a route through Singapore specifically because it was far less expensive and had more upgrades available.
Flight attendant provided advice on TikTok.
Flight attendant Cierra Mistt got millions of views when she shared some of her secrets as a flight attendant on how passengers can get upgraded. She suggested you might get an upgrade based on "some Starbucks and a bag of chocolates." You may say that isn't possible, but Jeff reports he has in fact gotten into first class with a box of See's chocolates.