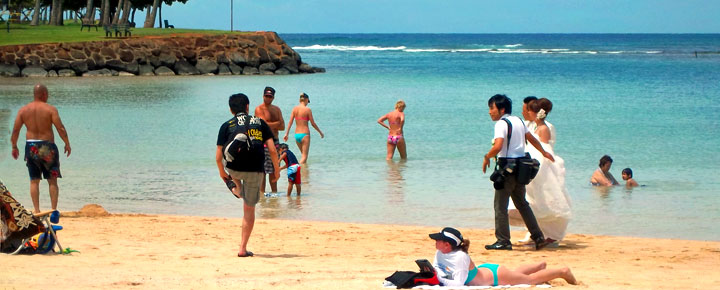 Hawaii deals and Hawaii weddings don't need to be antithetical. And since Hawaii weddings can come in so many forms, we are kicking off the discussion today with some key money saving tips and discounts.
A Hawaii wedding is iconic yet remains accessible
The natural beauty of our islands makes for an unequalled backdrop for both your wedding and honeymoon. It's a celebration and vacation all in one. It simply doesn't get any better than that!
The wedding industry in the islands is booming, from officiants and photographers, to venues, caterers and planners. The choices are also burgeoning, so that you can pick anything from a costly extravaganza to a plan-it- yourself beach wedding at minimal cost with proper permits.
Save on Hawaii Weddings: First Pick your date carefully.
Since Beat of Hawaii visitors are largely economy oriented as we are, let's consider some primary ways to save money on Hawaii weddings:
1. Timing is key. To save money, pick dates between spring break and the first week of June, and from late August through early December (except Thanksgiving). Planning your wedding for late spring or fall will save significantly on airfare and accommodations. Those are the times you and your guests can find Hawaii deals. Expect to save 50% compared with high season travel prices. Fare sales for spring and fall usually occur 60-120 days prior. Therefore, to save the most money, plan your Hawaii wedding when these fare sales are available.
2. Hawaii discounts on wedding travel and groups. Hawaiian Airline Wedding Wings
 offers travel discounts for all Hawaii weddings. These 5-10 percent off discounts even work then they are fare sales and apply to both those getting married and their guests. It can also include a first class upgrade for the wedding couple. For groups of 10 or more travelling together, you can almost always save on both airfare and accommodations. Check with airlines' group travel desk for discounts that are not published. Always ask about wedding packages on accommodations as well as multi-room discounts.
3. Choose an off the beaten track venue. Beach weddings are popular and inexpensive, but have certain requirements in Hawaii. Non traditional, low cost venues can vary from parks to gardens. Ask your wedding officiant for advice.
4. Consider vacation rentals. To save money, rent a large home for the entire wedding party and host the event and reception there too. Be sure to check with the vacation rental company first for prior approval.
Read which is the best Hawaii island to visit for your Hawaii wedding and why.
Photo of wedding makers among the sunbathers at Ala Moana Beach Park, Oahu.
Disclosure: We receive a small commission on purchases from some of the links on Beat of Hawaii. These links cost you nothing and provide income necessary to offer our website to you. Mahalo! Privacy Policy and Disclosures.