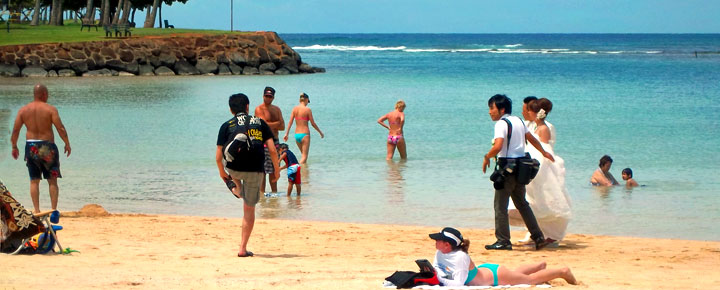 Hawaii weddings, like the rest of the state, have decidedly collapsed. And what should have been an epic year, is turning out to be the most dismal in decades. This is impacting wedding planners, photographers, officiants, accommodations, air travel, and the myriad of other related industries that overlap.
It has even been felt by Beat of Hawaii co-owner Rabbi Rob Kvidt (kauairabbi.com), who performs Jewish weddings and other ceremonies. "All of my wedding couples changed their plans and were married elsewhere. The last wedding I performed was at the Princeville Resort Kauai right before this all hit. We had no idea whatsoever just how much everything was about to change."
Frieda Gayle (kauaiweddingofficiant.com) said "The wedding industry has been severely impacted, to put it mildly. Couples are anxiously awaiting news if they can come. On the bright side, Kauai, and Hawaii, in general, is worth the wait. It is a premier destination location for a beautiful and very memorable wedding and as soon as it is allowed, I'm sure our couples will come back. We so look forward to that day. I miss them and the friendships that are formed with my couples."
Hawaii beach wedding sallied over virus concerns.
As if it couldn't get worse for Hawaii weddings, a woman at Waimanalo Beach appears to have just bushwacked a Hawaii beach wedding due to Covid regulations currently in effect on Oahu.
In the tragic and avoidable video at the bottom, a woman interrupted the small wedding, starting with a rather insincere "Aloha," to tell participants that "This is the beach and the beach is closed." The officiant can be seen rushing the group away from the beach, back towards a large house several yards away. An altercation ensues related to the beach and nearby house while someone else says simply that "These people don't know that's the property line."
Current status of getting married in Hawaii.
All visitors must quarantine 14-days prior to the ceremony. That excludes many from getting married in Hawaii.
Beach wedding permits on the island of Oahu are invalid until at least September 4, according to the state's Department of Land and Natural Resources. While swimming, surfing and other beach activities are permitted, social gatherings at the beach are not allowed.
Wiki Permits will continue to be issued in other counties (islands) subject to COVID-19 restrictions: (a) no group shall exceed 10 persons; (b) group members who are not part of the same household shall comply with social distancing requirements; and (c) use of beach limited to 1/2 hour before sunrise to 1/2 hour after sunset.
Questions remain as to what will be left of the wedding business after this all shakes out. Did you cancel your wedding plans for Hawaii or are you planning to get married here in the future?
Twitter video contains strong language.
Woman in Hawaii interrupts a small wedding pic.twitter.com/8CC1X4zyYW

— Fifty Shades of Whey (@davenewworld_2) August 15, 2020
Photo © Beat of Hawaii from an earlier beach wedding at Ala Moana Beach Park, Oahu.
Disclosure: We receive a small commission on purchases from some of the links on Beat of Hawaii. These links cost you nothing and provide income necessary to offer our website to you. Mahalo! Privacy Policy and Disclosures.