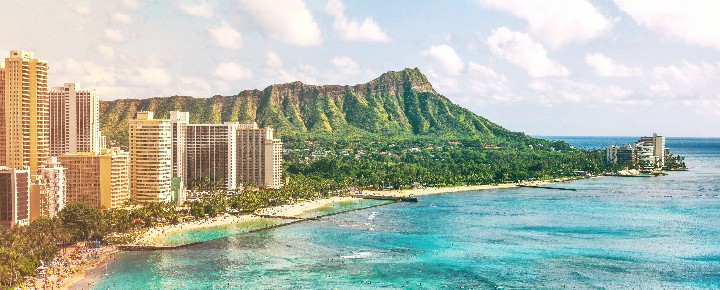 If there's one thing that people have missed most during Covid, and there are a lot of them, it's travel. And Hawaii is always near the very top of travel planning domestically and internationally.
Bellwether Hawaiian Airlines' CEO said, "We've seen a great recovery in terms of demand for domestic leisure travel and demand domestically for travel into Hawaii… Demand is very strong."
Hawaii saw record tourism in 2019, both domestic, and international. Every sign was that tourism would continue growing, whether we could handle it or not. Globally, too, tourism was on a tear, until Covid hit. Now it's time to reset. Following two full years of Covid, travelers are once again making big Hawaii vacation plans.
The United Nations, which monitors global tourism, said that tourism will return to pre-Covid numbers within the next 24 months. In Hawaii, for various reasons, that's happening far sooner.
Fewer options resulted from rescheduled vacations plus new ones.
Hawaii-bound visitors have postponed countless vacations, as you've noted repeatedly in the comments. In some cases, you've postponed Hawaii vacations two or three times.
But now, at long last, those vacations have been rescheduled. Adding new wanderlust demand to those rescheduled Hawaii vacations has resulted in a shortage of availability. That's especially true in the uber-popular vacation rental sector.
50% of Covid-postponed Hawaii vacations will take place in 2022.
One travel insurance provider reported that about 50% of the vacations that were canceled for 2020 and 2021 are going to take place in 2022. Berkshire Travel Protection said that according to their survey, about 4% plan to cancel those prior plans entirely, and another 6% are postponing them beyond 2022.
Slim Pickings for 2022 Hawaii vacations.
The most desirable of Hawaii locations are seeing extremely limited availability, especially for accommodations, and car rentals. Last week we also wrote about what's happening with Hawaii restaurants too.
Those of you who are on the fence about 2022, or even 2023 Hawaii travel, would do well to make decisions sooner than later and protect the opportunity to have the best selection. Limited availability is impacting all of the Hawaiian islands. The least availability will be for mid-June through mid-August, and for the end-of-year holidays.
Hawaii domestic arrivals are already eclipsing 2019 levels, and that is even before the next tourism wave gets underway.
This week's elimination of Covid restrictions will lead to a further travel surge.
Hawaii travel has been on the upswing since last fall. Starting this week, Hawaii will lift the remaining Covid restrictions including the requirement for pre-travel testing or proof of vaccination for travelers arriving from within the U.S.
Demand for Hawaii travel starting this week will escalate dramatically. And it isn't just domestic travel that's taking off, as was the case until now. Hawaiian Airlines just said, "we're gearing up in anticipation of the Japanese market." Japan represents the single largest source of international visitors to Hawaii, which typically amounts to 1.5 million arrivals per year.  And it isn't just Japan; Australian and Koren visitors are planning to return too, as are Europeans and others.
Hawaii cruises are back.
Add to domestic demand the return of highly popular Hawaii cruises. This year, for example, Hawaii expects to host 150 cruise ship itineraries, including weekly NCL Pride of America, all-Hawaii island cruise sailings.
Pride of America is set to restart weekly sailings around the Hawaiian islands next month.
Disclosure: We receive a small commission on purchases from some of the links on Beat of Hawaii. These links cost you nothing and provide income necessary to offer our website to you. Mahalo! Privacy Policy and Disclosures.