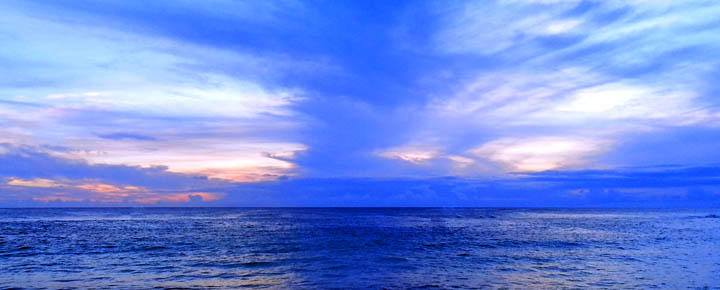 Hurricane Douglas is fast approaching Maui, then Oahu, and finally Kauai. When it arrives here, it may be one of only a few hurricanes to make Hawaii landfall in recent memory. This time that is possible both on Kauai and Oahu. The two other storms are infamous Hurricane Iniki (1992), which was 28 years ago, and before that Hurricane Dot in 1959 (video below). Hurricane Iwa (1982) did not make landfall in Hawaii, but nonetheless did major damage to Oahu and Kauai.
We are currently in prep mode on Kauai and just now started hearing the ominous hurricane warning sirens. Yesterday driving around the island we saw clearly fewer cars on the road and a mostly deserted Hanalei Bay beach. Today is a day of more intense preparation including creating safety for the mule, making a freshwater reservoir in a jacuzzi in order to have 250 gallons on hand, and being sure that all supplies are ready. Before this, there was the obvious shopping, checking for adequate propane and gasoline reserves, and generator testing.
All of this is because Hurricane Douglas may arrive as a Category 1 storm according to the National Hurricane Center. It is due on Kauai late tonight or early Monday morning, after going by Maui and Oahu later today. Concerns revolve around massive storm surges, high surf, heavy rainfall, and wind. The amount of rain is not known but estimates have been from five to fifteen inches possible. We'll let you know.
We had been told to expect Hawaii would probably haveahave less active hurricane season this year. On the other hand, the Atlantic is in a favorable condition for hurricane development this season, which goes until December 1. Obviously, mother nature has its own plans.
We are here on the ground and will update further on Monday during the hurricane.
If you are here in Hawaii, please let us know what is happening where you are.
Disclosure: We receive a small commission on purchases from some of the links on Beat of Hawaii. These links cost you nothing and provide income necessary to offer our website to you. Mahalo! Privacy Policy and Disclosures.