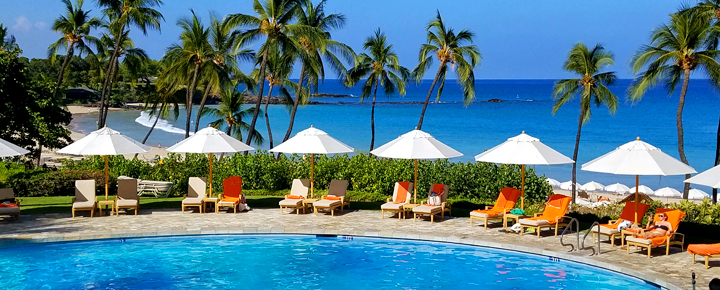 As if we haven't heard enough about travel bubbles, here comes the next one (again). Are you ready for Hawaii resort bubbles?
Three islands, Kauai, Maui, and the Big Island, are looking into a concept that we previously mentioned, and is now being tried in Jamaica as a way of slowly restarting tourism. The basic theory here is to allow guests to quarantine at pre-designated resorts and have the ability to use the facilities and not be sequestered within their hotel rooms as they are now.
"They (visitors) would be allowed to stay at selected resorts and the resorts would control where the visitors would be allowed to range." — Hawaii County Managing Director Roy Takemoto.
Beat of Hawaii: The idea is to permit you to drift freely at resorts while electronics track your movements to be certain that you remain within the quarantine facility. So you can both be on quarantine and enjoy a resort-based Hawaii vacation at the same time. Can you imagine being at an oceanfront resort, but only being allowed to look at the ocean from your hotel?
This is being touted as a way to possibly allow guests back to the islands , reopen large and now-shuttered resorts and return to work all the employees associated with them.
Are resort bubbles even working?
We wrote about resort bubbles earlier this month in terms of How Other Island Destinations Are Handling Tourism Now. That as related to the reopening of tourism in Jamaica, which, by the way, is far better logistically set up for such a concept, than in Hawaii.
In June, Jamaica announced its "resilience corridor" along Jamaica's northern coast, and subsequently its southern coast.  It is still unclear whether that plan is effective in containing the virus. Since reopening on June 15, 35,000 tourists have arrived together with more than 100 new virus cases, the majority of which are reported to be associated with US visitors. The government is planning to provide an update on the state of the corridors any day. Jamaica is using an app called JamCOVID19 to track all moments of visitors as well as for contact tracing. Jamaica also has on-arrival testing which it uses when appropriate.
Before even starting out, Jamaica changed plans to say all arrivals must also provide test results taken within 10 days of travel. Subsequently, that was changed again so now only residents of Florida, New York, Texas, and Arizona must provide proof of negative tests before travel.
Questions are many. 
Would entire Hawaii resorts be dedicated to quarantining visitors, or just some parts? How would visitors be monitored and segregated from non-quarantining guests? How would restaurants and other facilities work – one for quarantine and one for not? And would the same be true for resort pools?
The Big Island has numerous large resorts that might be some of the islands' best situated, should such a concept get a green light from the state. As of earlier this week, resorts there were just beginning to hear of the idea, and there was a virtual meeting between state officials and various properties to further discuss the concept.
What's your take on Hawaii resort bubbles?
Beat of Hawaii © photo at Mauna Kea Resort, Big Island.
Disclosure: We receive a small commission on purchases from some of the links on Beat of Hawaii. These links cost you nothing and provide income necessary to offer our website to you. Mahalo! Privacy Policy and Disclosures.