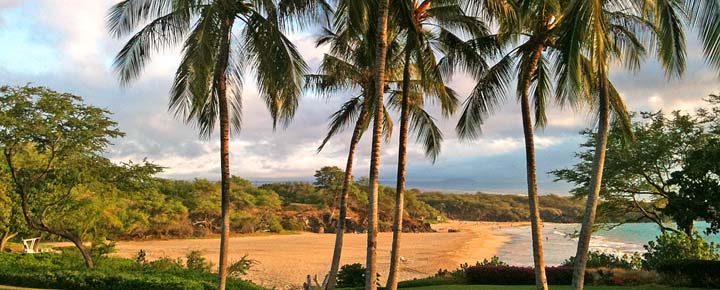 While Hawaii's governor earlier this week delayed the state's planned reopening without quarantine until at least October 1, he, together with two counties, is pursuing a controversial "resort bubble idea" for travelers. The governor has issued a proclamation approving the concept and allowing the counties to proceed.
The concept gives visitors and residents the ability to travel to and within Hawaii without a normal 14-day in-room quarantine. Think what fun paradise will be confined to a resort property, your every movement followed via bracelet and location compliance tracking software.
In the first 200+ comments about Hawaii resort bubbles, you have been overwhelmingly against the idea. Please let us know your thoughts. Rest assured that stakeholders in Hawaii travel are reading them. Reader Kathy just said, "Perhaps we can make a reality show called 'Prison in Paradise'; the old Fantasy Island show with a twist. The theme song should be Hotel California."
Beat of Hawaii: A Hawaii resort, unlike others around the world, was simply never intended to be a destination in and of itself. It is first and foremost antithetical to the Hawaii experience that you would come here and never leave the property. Imagine being at an oceanfront resort, but only being allowed to look at the ocean from your hotel? There is talk on Maui, however, that perhaps the beach in front of a resort will be closed to residents and open only to quarantined guests. The whole idea isn't viable, it is insulting, and we aren't even sure it is safe. We're reminded of blowing bubbles as a kid, how pretty it looked for a moment, but then the bubble burst. So it goes with this idea. 
Hawaii resort bubbles: how it works.
The Hawaii resort bubble concept allows visitors to freely meander within an approved resort during their 14-day quarantine but they remain "geofenced" within the resort boundaries. Tracking software and monitoring devices would quickly alert police to anyone who attempts to leave the resort illegally. Those agreeing to participate would sign waivers permitting the electronic surveillance of their movement as well as access to their health information. Any (thus far unknown) costs would also be born by visitors.
But here's the other problem. Visitors would not have to be tested for COVID, so they could bring it to the resort without knowing it, and infect other visitors and hotel workers who then leave the resort when they go home to their families.
Kauai mayor pushes forward while the largest and most appropriate Kauai resort says NO.
Kauai's mayor said that a resort bubble "is just one step in the staged approach for a broader opening of travel." Program details are still to be determined, including which (if any) resorts would participate in providing a plethora of required measures, as well as testing and obtaining approval for electronic quarantine monitoring technologies. 
It has been reported that the Grand Hyatt Kauai, the largest and potentially most appropriate Kauai resort, which is currently closed, has no plans to reopen until the 14-day quarantine is lifted. This is the largest resort on Kauai, and it is not wanting to "bubble."
And if you're thinking you can take off your bracelet and have any fun, think again. Kauai's mayor said, "This technology is also embedded whereas if somebody tried to take this band off, it will also ping the resort security as well as our local law enforcement."
Hawaii travel stakeholders, meanwhile, are doubtful of the state's latest boondoggle. 
While some believe that resort bubbles could be a way to slowly restart tourism, it isn't clear that there would be any demand for this crazy, visitor-alienating and potentially dangerous idea. 
Alex Da Silva at Hawaiian Airlines said, "It's difficult to predict how much demand such a proposal would entice. Each day a pre-arrival testing program is delayed creates significant economic damage to our state, Hawaiian Airlines, and other Hawaii companies that directly or indirectly depend on air travel and tourism to stay in business and keep workers employed."
Ben Rafter, Hawaii Tourism Authority Board member and hotel chain CEO said, "Doing geofencing for some of the resorts as a way to let some tourists in would be a big mistake. It is way off-brand, and it will ruin experiences and memories for visitors." 
Pleasant Holidays CEO Jack Richards had mixed feelings saying, "We have already canceled over $4 million in books scheduled for September and that's just the air, hotel and rental piece. If this is the only way to reopen Hawaii tourism, let's do it and see what happens. We have to get tourism open for everybody."
Should this controversial plan ever come to fruition, it might in theory debut in a matter of weeks. Based on how much international bad press this is likely to garner, we hope it is dropped sooner than later. 
Kauai and Maui County mayors are the leading proponents of the Hawaii resort bubble concept but neither has yet been able to provide details of what would be required. The Big Island previously also indicated interest, with County Managing Director Roy Takemoto saying, "They would be allowed to stay at selected resorts and the resorts would control where the visitors would be allowed to range." 
Daunting obstacles and a myriad of questions exist.
Resorts would have to develop and seek approval of safety plans and other aspects. They would also need to purchase the required equipment and software to enable the process. 
How those in the neighboring and related communities would be protected is unclear. Maui's mayor had the idea that workers would live on the property and perform 5-day shifts. He also suggests doctors be housed at the resorts. If anyone tests positive, workers might need to stay on-premises 14 additional days.
Would entire Hawaii resorts be dedicated to quarantining visitors, or just some parts? How would visitors be monitored and segregated from non-quarantining guests within resorts? How would restaurants and other facilities work – one for quarantine and one for not? And would the same be true for resort pools?
The Big Island has numerous large resorts that might be some of the islands' best situated, should this concept come to fruition.
Are resort bubbles working anywhere?
We previously wrote about resort bubbles and How Other Island Destinations Are Handling Tourism Now. That as related to the reopening of tourism in Jamaica, which, by the way, is far better logistically set up for such a concept, than is Hawaii.
In June, Jamaica announced its "resilience corridor" along Jamaica's northern coast, and subsequently its southern coast.  It is still unclear whether that plan is effective in containing the virus. Jamaica also has on-arrival testing which it uses when appropriate. Jamaica changed plans and at least temporarily stopped the corridors. At this point, US arrivals (may be state-dependent) must also provide test results taken within 10 days of travel.
Are you ready for Hawaii resort bubbles?
Beat of Hawaii © photo at Hapuna Beach Resort, Big Island.
Updated 8/21/20.
Disclosure: We receive a small commission on purchases from some of the links on Beat of Hawaii. These links cost you nothing and provide income necessary to offer our website to you. Mahalo! Privacy Policy and Disclosures.