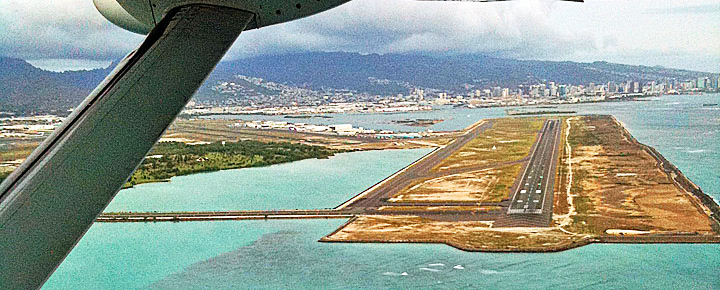 Some problems in the past few days as Hawaiian Airlines flights encountered multiple issues. We rarely write about incidents like these, but took notice when there were three within a few days. Kudos to Hawaiian Airlines for their great aplomb in handling of these unfortunate situations. It just goes to point out that life happens on aircraft traveling to and from Hawaii.
Last week there was a fight on-board a Hawaiian Air flight from Honolulu to Los Angeles. The altercation was apparently due to one passenger reclining their seat to the chagrin of the passenger seated in the next row. On Twitter, someone noted "Pilots made a u-turn mid-flight to LAX from Honolulu. Passengers say a flight attendant was hurt trying to restrain the two men." We heard that it was thankfully just shouting, but that it was heard throughout the cabin. The two were arrested when the flight landed back in Honolulu, and the remaining nearly 300 passengers and crew were later re-accommodated.
We so relate to the discomfort we can feel when sitting in small airline seats for a long period of time, such as when flying to and from Hawaii. Interesting to note that Hawaiian took out the seat recline entirely on their inter-island flights a few years ago. We actually prefer it this way, except on long haul. It's a reminder to keep your anger in check when flying and to be akamai with fellow passengers who are equally frustrated, no matter which airline you're traveling on.
Also, sad news that a 74 year old man was found dead in the lavatory on Saturday night's flight from Tahiti to Honolulu. Hawaiian Airlines confirmed the death occurred early Sunday morning. The flight continued to Honolulu.
Lastly, Friday's flight from Honolulu to Oakland encountered mechanical issues. There was a reported discrepancy in an on-board monitoring system. Out of an abundance of caution, the pilot turned the new A321neo plane around and returned to Honolulu. The flight was in the air for less than 90 minutes before landing in Hawaii. Passengers were then provide alternate travel.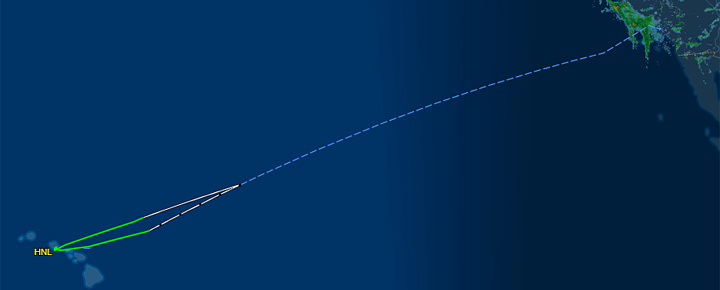 Remember Go!Hawaii? British Airways takes the cake and flies to wrong country. 
It's been a long time since a flight in Hawaii has gone to the wrong place. About 10 years ago, now defunct Go!Hawaii pilots fell asleep while en route to Hilo from Honolulu. The pilots flew 25 miles past their destination while air traffic control (ATC) desperately attempted to rouse them. One of the pilots later told the FAA that it wasn't unusual for him to sleep for the full inter-island flight. With inter-island flights being as short as 22 minutes in duration, it's just a good thing those pilots aren't flying here any longer.
Due to entirely different reasons, this weekend a British Airways plane destined for Germany instead flew to Scotland. The issue was an incorrectly filed flight plan, which caused the pilot and cabin crew to believe the flight was bound for Edinburgh. After a brief stop, the plane went on to Germany. Didn't anyone notice they weren't flying in the right direction?
Disclosure: We receive a small commission on purchases from some of the links on Beat of Hawaii. These links cost you nothing and provide income necessary to offer our website to you. Mahalo! Privacy Policy and Disclosures.