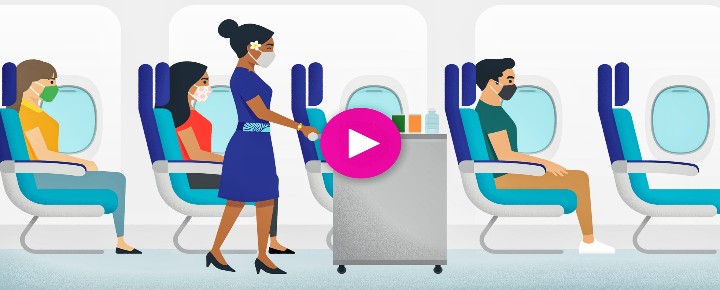 Fourteen Hawaiian Airlines flight attendants, based in Honolulu, have tested positive, while sixty employees have been asked to self-isolate for 14-days. This was as a result of masks not being required at a training program. Hawaiian also indicated that one of the flight attendants had worked on a flight prior to feeling sick. Company rules have since changed to help prevent another incident going forward.
Dr. Sarah Park, the Hawaii state epidemiologist, said those involved had been told, "masking was optional. She added, "It is the act of gathering and letting our guard down, not wearing a mask."
Beat of Hawaii: Hawaiian has always been extremely safety conscious. We sense that masking will be required at all times in the future to also protect employee to employee interactions.
In a letter to employees, Hawaiian CEO Peter Ingram said those involved were attending a two-day training that included close interaction. He said that masks will now be required instead of recommended for employees in the HA offices. "In response, we have revised our training policies to reduce the risk of virus spread in these settings. We are also making sure that these valued members of our ohana are receiving the proper medical care, and that we contact all who may have been in proximity."
Hawaiian Airlines has since revised its employee safety measures. They have canceled training for two weeks for both deep cleaning and the implementation of more rigorous protocols.
Alex Da Silva, Hawaii spokesperson said, "We are supporting our team members in their recovery, and other employees involved in the training have been self-monitoring their health, in accordance with CDC and state Department of Health guidance provided to us… We have also reinforced our office protocols to keep our employees safe and have temporarily canceled our flight attendant training in order to deep clean our facilities."
Safety protocols onboard Hawaiian Airlines flights.
Passengers are required to wear face masks on all Hawaiian Air flights, and flight attendants wear them as well when serving guests. While a complimentary meal is still offered, no drinks are poured (bottles and cans only), Pau Hana cart snack cart sales are gone, no alcohol is served in coach, and not seen any longer are pillows, blankets, and newspapers.
Disclosure: We receive a small commission on purchases from some of the links on Beat of Hawaii. These links cost you nothing and provide income necessary to offer our website to you. Mahalo! Privacy Policy and Disclosures.