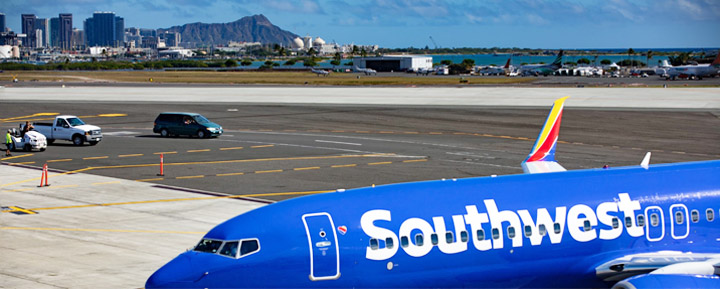 Hawaii entrant Southwest Airlines confirmed today that their CEO CEO Gary Kelly tested positive for Covid in a bizarre coincidence following a Senate hearing with airline execs. This was very poor PR timing at best, inasmuch as Kelly had just made a statement that he did not believe that masks mandates on planes were needed. Kelly was testifying before the Senate Commerce Committee Wednesday regarding the industry's Covid bailout when he made that statement. Neither witnesses including Kelly, nor lawmakers, wore masks at that meeting.
How this impacts Southwest Hawaii's winning streak is unclear. But it comes on a day when Covid cases just skyrocketed back to near-record numbers yet again, with an additional 797 infections reported by the Hawaii Department of Health.
SWA spokesperson said, "Gary tested positive for COVID-19 after returning home, experiencing mild symptoms, and taking a PCR test. Gary is doing well and currently resting at home, he has been fully vaccinated and received the booster earlier this year. Gary's symptoms continue to be mild, and each day he is moving closer to a full recovery."
Apparently, the other airline executives who were present have not tested positive following the hearing at which senators asked about a variety of issues including both airline vaccination and mask mandates.
At the hearing, unmasked Kelly said "I think the case is very strong that masks don't add much if anything in the air cabin environment." Hawaii-longtime airline American Airline's CEO appeared to say that he too felt masks were unnecessary onboard, although he later issued a statement that he "did not intend to cast doubt on the necessity of face masks on planes."
In an interesting anecdotal comment, Catherine just said with regards to flying, masks, and Covid, "We flew from the mainland to Oahu on Hawaiian Airlines. Two sick coughing, crying kids under the vaccination age sat across the isle from us. I wore my N95 and "double masked" until the hours long crying and coughing stopped. My husband only wore a surgical mask and was more casual about removing the mask for his beverage. He now has tested positive covid that presented 5 days after the flight. We are both double vaccinated and boosted. Was it my mask that saved me? I don't know, I think so."
Hawaii travel is just returning to recovery at a time when more cases of Covid are rearing their heads again, both on the mainland and here in Hawaii.
It isn't clear how this may influence Southwest customers both in Hawaii and those flying to Hawaii. The announcement comes just on the heels of yesterday's announcement: Southwest Hawaii Extends Booking Schedule | Summer Fares 50% Off and concurrent with competitor Hawaiian's Flash Sale | Hawaiian Airlines Deals | 15 Routes $84.
What's your take and does this change your feeling about flying Southwest Hawaii one way or the other?
Disclosure: We receive a small commission on purchases from some of the links on Beat of Hawaii. These links cost you nothing and provide income necessary to offer our website to you. Mahalo! Privacy Policy and Disclosures.