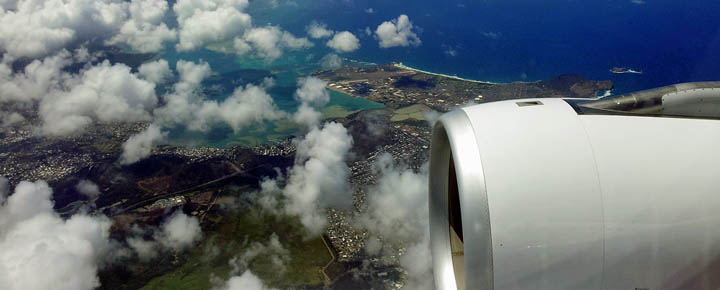 Two recent comments, from Lance and Colleen, got me thinking about checked bag fees and what I'm doing to avoid them.
These fees are just too annoying (though I suppose understandable).  They're ubiquitous and there is no way to avoid them coming to Hawaii.  Many carriers charge more if you don't plan and pay for checked bags in advance.
Use the largest carry-on that fits in airline overheads (22 x 14 x 9).  On Hawaiian for example, that full-size carry-on fits directly into the overhead.  On Go!, however, the overhead storage is about 1/3 or less the size.  So there, you can likely gate check your carry-on (carrying it right to the side of the aircraft) and should not be subjected to a checked bag fee.
Leave the snorkeling gear at home.  There are rental places on each island and (for me) better yet, head to Wal-Mart for an inexpensive set.
You won't need as much clothing as you think.  One sweater-sweatshirt, long pants and athletic shoes worn on the plane are generally adequate for staying warm during all seasons in Hawaii.  The remaining clothes can be lightweight, mostly shorts, shirts and sandals.  Dressing beyond casual is less common in Hawaii, so go very conservative in that regard.
Do some touch-up laundry while you're here.  Many if not most Hawaii accommodations have laundry facilities on location or nearby.  The exception is generally the better hotels; although even the highly rated Koa Kea has a guest laundry.  Even then, quick washing can be done in a sink  (consider packing a 1-2 ounce container of liquid dishwashing soap), and a drying line in the bathroom is either provided or can be improvised.
Use the hotel beach towels.  Bringing your own takes up valuable luggage space. Use the hotel towels and drop them off on your day of departure en route to the airport.
White clothes need to stay home. They don't mix well with the unavoidable dirt here in Hawaii.
I've seen the suggestion to pack some clothes you'll be giving/throwing away soon. You can drop s them off when you're leaving (perhaps donating to Salvation Army if they are in good condition) and replace them in your luggage with souvenirs.
Keep track of the weight of your carry-on (and your checked luggage).  Airlines are beginning to enforce carry-on weight limits, so be prepared in case they do.  A portable non-electronic luggage scale just keeps on working trip after trip.
Please let us know what packing tips work best for you.
Disclosure: We receive a small commission on purchases from some of the links on Beat of Hawaii. These links cost you nothing and provide income necessary to offer our website to you. Mahalo! Privacy Policy and Disclosures.