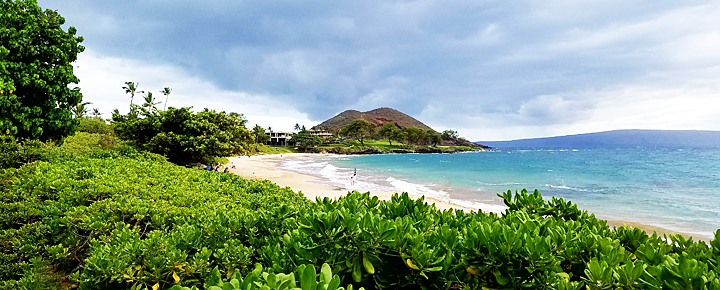 You're a Hawaii travel deal addict or a "Kama`aina-in-the making," if you…
I was reminded of this post yesterday flying away for a week off-island. As the flight came out of Lihue, there was a tear in my eyes as I listened to Pali's Haleakala with gratitude.
Plan your next trip to Hawaii before you leave the islands. (#1). Subscribe to websites and Facebook for your cheap flights to Hawaii. (#2). Shop for Hawaiiana. (#3)
Wear Hawaii-style clothes (even in cold weather back home). (#4). Listen to Hawaiian music wherever you go. (#5). Dream of Hawaii when you're not here. (#6).
Feel happiest when in Hawaii. (#7). Visit every island including Molokai and Lanai. (#8). Tan only and never sunburn. (#9).
Know the differences between Mauka and Makai, Windward and Leeward. (#10). Talk about being On and Off-Island. (#11). Get a lump in your throat when leaving Hawaii to fly home. (#12).
Slip into Pidgin so well when you return even after a long absence. (#13). Prefer Musubi, Saimin, Plate Lunch and malasadas (to name a few) to burgers, fries, and pizza. (#14). Watch the videos you took on your last Hawaii vacation just so you can get centered enough to make it through the day. (#15).
Enjoy plate lunch and live Hawaiian music at regular intervals no matter where you live. (#16). Have your photo of swaying palms as the background on your phone or computer so you think of Hawaii several times a day. (#17). Look at Hawaii websites and Facebook pages to find out if you've missed anything that needs to be added to your 'to do' list for next trip. (#18).
Check all the live web cams and watch Hawaiian sunsets during the winter or anytime you need a fix. (#19). Watch Hawaii weather online. (#20). Grumble about wearing shoes when you get home or leave them at the door. (#21).
Read Hawaii news online. (#22). Watch for planes arriving from and taking off to Hawaii. (#23). Check Hawaii travel deals even when you aren't planning a Hawaii vacation. (#24).
Have your check imprinted with Hawaiian beach scenes. (#25). Keep your Hawaii trip planning information in front of you all all inappropriate times. (#26). Set your watch or computer to Hawaii time. (#27).
Watch Hawaii 5-0 religiously. (#28). Cook Hawaiian food at home. (#29). When you buy flowers they are Hawaiian tropicals. (#30).
How many of the above applied to you? Anyone answer yes to all 30?
Thanks to all those who helped provide input in this just updated (1/16/20) post!
Disclosure: We receive a small commission on purchases from some of the links on Beat of Hawaii. These links cost you nothing and provide income necessary to offer our website to you. Mahalo! Privacy Policy and Disclosures.