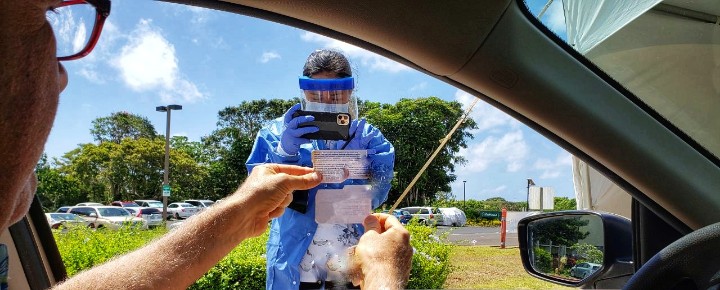 Herein a potpourri of topics to catch up on our news that includes a C0vid update from Kauai, nasal swab test, and a hip replacement. Read on for details.
One week ago, Jeff had a C0vid nasal swab test performed here in Hawaii at Wilcox Hospital on Kauai. We share what that was like later in today's post. And while we are at it, let's kill two birds with one stone (or whatever your favorite such expression is). Jeff had a hip replacement surgery last Tuesday, and that put Beat of Hawaii temporarily out of commission. We're back and he's happily on the mend!
The past few days we also learned that a single-family on Kauai within one mile of us here at Beat of Hawaii had eight new C0vid cases. Other outlets have not reported the exact location, but we can confirm that. We have seen the National Guard posted there, apparently making sure that everyone stays put. We don't have more details than that as of yet. These are the first confirmed cases on Kauai in over ten weeks. That mood on the island is that of concern. We all had become complacent because we went for a long time without a new case.
C0vid nasal swab test – what was it like?
Nasal swabs in both nostrils were inserted serially. While it is true that these were inserted far, there was no pain involved. Jeff reported that the result was a ticklish, need to sneeze feeling. It didn't last long and that was it. No problem to report.
We had to wait quite a while in the car for the drive up test. That was the worst part. From what we saw, testing here is simply not efficient by any means. Notes were being taken with pen and paper by technicians. To get 6 people in front of Jeff processed, it took the better part of two hours. The test itself was fast. We're left scratching our heads on how this could work for arriving passengers.
So is testing for travelers even available here in Hawaii or for travelers to Hawaii?
Hawaii will have a major testing component for visitors when reopening is announced shortly, but how could this be done at the pace which we saw? As you know, the State of Alaska offers testing on arrival. And, it is Alaska's model that will be implemented here in Hawaii. When Hawaii does testing, it will need to be far more efficient than what we experienced, or visitors might lose most of their first vacation day in the process. Once the test was taken, thankfully the results were available online within 12 hours. For travelers that means quarantine until results are known.
Jeff's surgery update for our loyal fans.
Jeff had a procedure known as minimally invasive anterior hip arthroplasty. In other words, a complete hip replacement. It came as a result of decades of sports abuse among other things. Jeff had that performed as an outpatient surgery on Tuesday, and he has been recovering ever since. Jeff is back in the saddle today and while he is still hurting some, everything is going well. Mahalo and Aloha!
Disclosure: We receive a small commission on purchases from some of the links on Beat of Hawaii. These links cost you nothing and provide income necessary to offer our website to you. Mahalo! Privacy Policy and Disclosures.