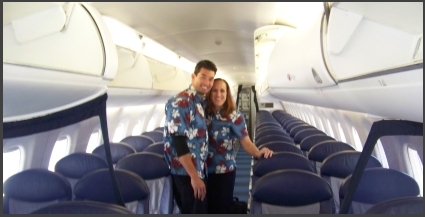 We've both been flying around Hawaii on Mokulele Airline's Embraer 170 jet service again. That is a big change for these two guys who have been Hawaiian Air's most frequent fliers for years.
Inter-island airfares are still cheap, so its a great time to see more than one island the next time you are in Hawaii.
Since we last wrote about our experience with Mokulele, four significant changes have occurred:
1. Mokulele has just signed a booking agreement with Expedia, so you can reserve flights there, either alone or in a package.
2.  Effective June 1, Mokulele has a new schedule which starts earlier in the morning and runs later in the evening.  For us, this means we can spend the day on another island and still get home at night.
3.  New jet service added between Honolulu and Hilo effective May 1.
4. Continental and Mokulele have a new interline ticketing agreement.
What we like about Mokulele:
No hassle check-in

. Fewer flights mean it's much faster than Hawaiian.

Best seating

. As we mentioned previously, the seats are more comfortable, wider and there is simply the feeling of more space.

Support a local carrier

.  Well, frankly it's all relative.  Hawaiian is a Delaware corporation, while Mokulele is registered in Hawaii.  Recently, however, Republic Airways acquired 50 percent ownership of Mokulele, and they're Indiana-based.  But Mokulele's president Bill Boyer is a Kauai neighbor and many of his employees previously worked for Aloha.

Service

.  Hands-down Mokulele has the best service of any carrier in Hawaii.
What we don't like:
Mokulele is part of Alaska Airline's mileage program.  While this might be beneficial for others, we prefer Hawaiian Miles, as they are far more useful throughout the Pacific.
With fewer planes, their flight schedule doesn't always work as well as Hawaiian's.
Have you flown Mokulele yet?  If so, let us know what you think about the new kid on the inter-island jet block.
(Photo was taken on our recent flight between Lihue and Honolulu.  )