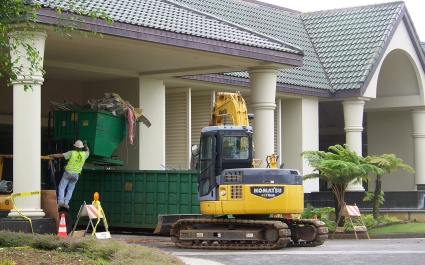 Hotel:
As you may know, Kauai's Princeville Resort is getting a facelift and rebranding in 2009.  We were up there recently to check on the start of construction.
The rooms are being gutted and the furnishings sold by liquidators.  Everything looked gaudy and tacky with ridiculous sale prices.  We resisted the urge to take home a used towel, bathrobe or plate.
In 2009 we'll see what a modest 40 million dollars in renovations bring.  Can a higher end, and presumably more expensive hotel product find a home during a recessionary economy?  And whether Princeville's timing turns out to be good or not.
The Princeville Hotel was showing significant signs of wear and tear and suffered from chronic mildew, in large part due to its proximity to the ocean.  It will be rebranded as the St. Regis Princeville Resort and is due to open next summer.
Starwood, the hotel's management company, is expanding its brand in Hawaii beyond the traditional Sheraton logo, in order to achieve a more wide-spread appeal.  Maui's Renaissance Wailea Beach Hotel is simultaneously being rebranded as St. Regis.
Golf Course:
The legendary 18 hole Prince course continues to operate as usual during the remodel while the Makai course is undergoing major renovation through most of 2009.
The Makai course consists of a clubhouse and three unique 9-hole courses spread over 200 acres. The Woods course will remain open with reduced 18-hole rates of $59.  The Lakes and Ocean courses are now closed.  Robert Trent Jones, its original developer, is doing the update of the Makai Golf Course, which first opened in 1971.