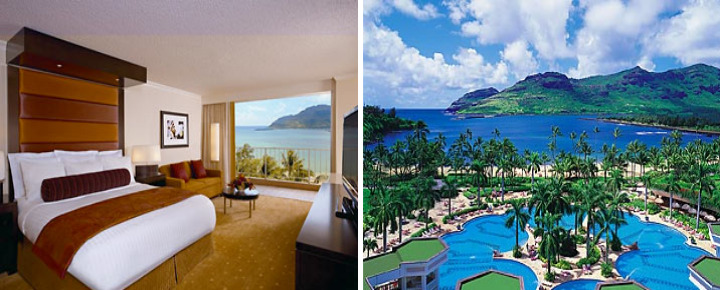 The owner of the Kauai Marriott, Services Properties Trust (SPT), has terminated its agreement with Marriott starting in January due to Marriott's failure to make payments that were due. It isn't clear under what circumstances this happened. Some have suggested that perhaps Marriott wanted to let go of that property.
This follows a similar situation wherein Intercontinental Hotels Group (IHG), also failed to make payment to SPT on over 100 other properties, none of which we believe were in Hawaii and has therefore had its agreement similarly terminated.
As you likely know, there are companies like SPT that own hotels and companies they hire to manage them under a branded name, like Marriott.  Service Properties Trust, a company you may never have heard of, owns more than 100 hotels that have been operating under Marriott branding. That includes the iconic Kauai Marriott at Kalapaki Bay (pictured above).
All of these SPT properties will soon be rebranded and managed by Sonesta, another relatively unknown and heretofore small hotel management company that is not coincidentally partly owned by SPT. The Kauai Marriott will soon become Sonesta's first Hawaii resort. Sonesta previously had fewer than 100 hotels total in its portfolio. After these Marriott and IGH properties are added, they will have nearly 300. How they will grow that quickly without incumbent pains, remains to be seen.
Last month, Marriott was put on notice by the owners that it was behind in payments and was required to make an $11 million payment in order to "cover the shortfall between the payments SVC has received to date from MAR and 80% of the priority returns due to SVC for the eight months ended August 2020."
Marriott failed to respond.
Subsequently, SVC announced the termination of all 122 property management agreements with Marriott Corp. This does not include the Marriott Waiohai Beach Club at Poipu.
"Service Properties Trust (Nasdaq: SVC), or SVC, today announced that it has terminated the management agreements for 122 hotels with Marriott International, Inc. (NYSE: MAR), or MAR. As previously announced, SVC sent a letter requesting MAR advance $11.0 million to cover the cumulative shortfall between the payments SVC had received to date and 80% of the cumulative priority returns due to SVC for the eight months ended August 2020. MAR had until October 5, 2020 to avoid termination by making payment to SVC. SVC did not receive any payment from MAR, and based on discussions with MAR, SVC does not expect MAR to pay the cumulative shortfall for the balance of 2020. Accordingly, on October 6, 2020, SVC sent MAR a letter exercising its termination right. The effective date of the termination is January 31, 2021 and SVC currently plans to transfer the branding and management of 98 of these hotels to Sonesta. There are currently 80 Sonesta branded hotels worldwide. SVC owns approximately 34% of Sonesta and will share in the benefit of these new management agreements and in the hotels' performance to the extent they ramp up in the post-pandemic recovery."
Also, to our knowledge, Marriott has not commented on this situation.
About Kauai Marriott.
The 356-room Kauai Marriott Resort is a mega-resort that is beautifully placed overlooking Kalapaki Beach on Nawiliwili Harbor in Lihue. It is just five minutes from the airport. The first hotel there was the Kauai Surf Hotel, which opened in 1960. That was replaced by the iconic Westin Kauai in 1987 with its famous lagoons, then by the Kauai Marriott in 1995 following Hurricane Iniki.
The property operates under two names, which is confusing. The hotel component is called Kauai Marriott Resort, whereas the time-share part is called Marriott's Kauai Beach Club.
In addition to beautifully landscaped grounds, the resort has one of the largest swimming pools in Hawaii. Although the resort shows its age and features arguably lackluster architecture replete with statuary, rooms are generally spacious, with lanai. It has five restaurants and a wide range of on-site resort activities is available on-site. Ballrooms and conference facilities are also abundant. It's former Jack Nicklaus designed golf course is now part of the new Timbers Resort.
Primarily time-share property with big changes ahead.
The resort is largely time-share we were told, with only one wing being a pure hotel, and the rest being time-share. However, because both the hotel and time-share units co-occupy much of the overall property, this could get complicated to sort out.
It is too soon to say how this will impact time-share owners.
Uncertain times ahead for Hawaii hotels.
Even at hotel-centric Waikiki Beach, most hotel rooms have remained shuttered since Hawaii travel stopped in March.
Now with Hawaii's pre-testing program to start next Thursday, there is still much uncertainty as to what recovery will look like. The president of the Hawaii Lodging and Tourism Assn., Mufi Hannemann said everything won't reopen on a dime. Some hotels, he said, "Are going to take a wait-and-see approach because the demand is just not there."
For example, Halekulani has decided to remain closed for renovations until next year, as will the Outrigger Reef. Other hotels will open gradually, with more coming online starting in November and after, assuming demand warrants it.
There will be more changes ahead. We just learned that the New Otani will find different management as the Kaimana Beach Hotel. It will close on November 30 and all 114 employees will be laid off. The 125 room property is now scheduled to reopen on December 1.
Disclosure: We receive a small commission on purchases from some of the links on Beat of Hawaii. These links cost you nothing and provide income necessary to offer our website to you. Mahalo! Privacy Policy and Disclosures.