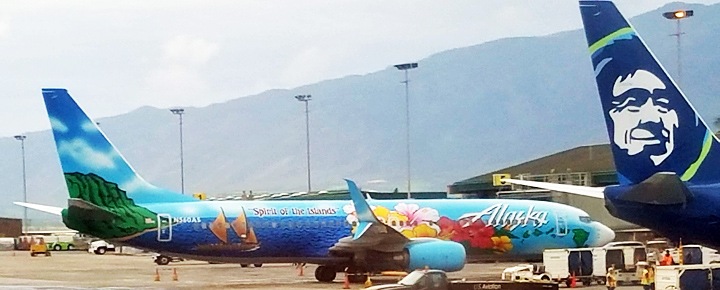 As Hawaii airlines contract and regroup, we predict they will return to a decades old hub approach to the Hawaiian Islands. That means Kauai and the Big Island (Hilo and Kona) could sadly return to yesteryear and take a back seat in terms of direct traffic. It only make sense that most nonstop traffic from the mainland would go to Honolulu and Maui, and be combined with interisland service when needed.
That's just one more aspect of the New Hawaii, a paradigm we began talking about yesterday.
Hawaii-Centric Airlines – Our Best Predictions.
1. Alaska Airlines
Alaska has spent more than a decade creating a very successful Hawaii network based on nonstop flights to the four main islands. They may, however, be the airline to contract most of our three primary carriers, both in terms of overall, and specifically regarding flights to Hawaii.
Alaska has a significant disadvantage here over newcomer Southwest. They do not maintain their own interisland flights and will need to off-load connecting passengers to either Hawaiian or Southwest if Honolulu and Maui are hubs.
If Alaska has the traffic to retain nonstop to neighbor island flights, the most likely to be kept first are those from the Pacific Northwest, where they are the dominant carrier.
Alaska said yesterday we should expect, "a smaller industry and a potentially smaller company." They also said that in order to preserve fast vaporizing cash and stay solvent, the company will make whatever cuts are necessary.
Alaska requested and subsequently received permission from U.S. Department of Transportation (DOT), to suspend flights to Kauai, Kona and Maui until September 30, if need be. We expect to see Maui flights resume sooner, but the other locations remain unclear at this time.
2. Hawaiian Airlines. 
Hawaiian is the best positioned airline for this new Hawaii travel archetype. We see the company temporarily pulling back on  some nonstop mainland flights to Kauai and Kona. These were added over the past couple of years as Hawaiian went from an all wide-body (767 and A330), to a primarily narrow-body (A321) mainland fleet. Their new planes are also highly efficient, and are very well suited for use in a reduced travel demand environment.
CEO Peter Ingram said yesterday that he is bullish inasmuch as late summer to fall bookings are running less than half-way (25% booked) behind where they would normally be (40% booked) at this point. On a recent earnings call he added, "I think people are tired of being cooped up. To the extent that they've got the flexibility and the economic wherewithal to do it, they're going to want to travel, and Hawaii is going to be an appealing place, like it always is."
Hawaiian had executed the Honolulu and Maui hub game for decades, when that was the only thing their fleet could reasonablyu do. And, Hawaiian can unquestionably do it well, again. With their extensive interisland capability, the airline can effiiently move passengers to and from the neighbor islands with minimal delay and without any change in carrier.
Hawaiian had requested and has received permission from U.S. DOT, to suspend flights to Boston, Las Vegas, Long Beach, New York, Oakland, Phoenix, Sacramento, San Diego, San Jose, and Seattle until September 30, if need be. The company has already brought the Seattle/Honolulu flight back, and others will return as traffic dictates.
3. Southwest Airlines.
Southwest either planned well or lucked out. They have created an interesting hybrid mainland/interisland model, that could uniquely serve them during this time. When they introduced direct flights to the four major Hawaii airports, they also created their own interisland service, utilizing the same planes that are traveling to and from the mainland. Thus, with minimal changes, it will be easy for Southwest to contract in terms of fewer flights to Kona and Kauai as needed, while not requiring off-loading of passengers to another carrier
We have not seen which Southwest routes DOT has approved suspension of, nor the duration.
4. Legacy Airlines
American, Delta and United have extensive flights to and from Hawaii and we expect their contraction here to be similar to the Hawaii-centric carriers. It will be some time before you need five airlines each running their own flights between LAX and Kauai, just as one example of excessive capacity that is ripe for significant reduction.
American received approval from DOT to eliminate all flights to Kauai, Kona and Maui through August 18, if needed. United received approval from DOT to eliminate all flights to Hilo, Kauai, Kona and Maui through September 30, if needed.
Disclosure: We receive a small commission on purchases from some of the links on Beat of Hawaii. These links cost you nothing and provide income necessary to offer our website to you. Mahalo! Privacy Policy and Disclosures.