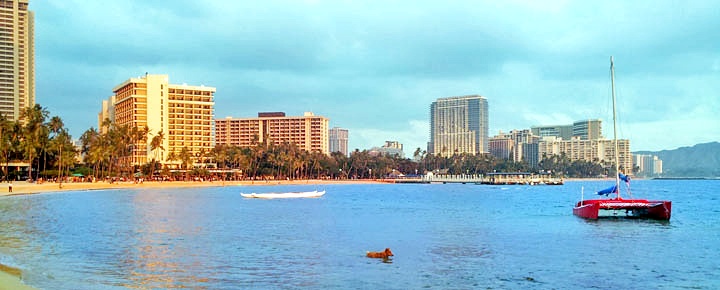 Hawaii travel will be coming back. We are hearing various dates and don't want to hang our hats on any of them. Ones that are being thrown around in the industry are sometime from June through the end of July. We're watching for more on that news coming soon and will update you as soon as we learn more.
Beat of Hawaii: When Hawaii tourism resumes, albeit slowly, we are fully expecting it to be the "New Hawaii: Healthiest Place on Earth." There's no doubt about it, Hawaii travel is going to be a clean industry and that is going to be its new brand. So read on for just what we mean by that.
Travel industry stakeholders join with health and government.
No one knows yet exactly what health measures will be implemented for Hawaii vacations. They are likely to be many and some will overlap by type and by timing. Testing is the end goal and standard we anticipate in the longer term. But for now, is it even feasible to think we can expand testing in time to open Hawaii travel? That is unclear to us and apparently, to everyone else involved.
Interim solutions will continue to be the following: distancing, face masks and many levels of sanitation both en route to and while in Hawaii.
When testing does arrive, and we can only hope that is sooner than later, we expect to see the travel shareholders take the brunt of the expense for that effort. In other words, the airlines and the rest of the industry that is reliant on tourism to come back will need to be very involved at all levels.
Beat of Hawaii friend, and Hawaii hospitality guru Jerry Gibson, said yesterday he would like to see both passenger testing and contact tracing be available for the resumption of travel. "We've got 220,000 people out of work. The trickle-down effect of that is almost half the population. We need to manage getting people back to work and getting tourism back." Jerry commented too on what we mentioned yesterday, and that is how Emirates currently tests passengers prior to boarding. He said in that regard, "Emirates Airlines is already doing" just that.
You won't get sick en route.
One thing we still remember, is sometimes getting sick on flights to and from Hawaii. Jeff came down with a hideous flu a few days after the flight from NYC to Honolulu. That was before the era of everyone was wearing face masks, the use of ubiquitous hand sanitizers, exhaustive aircraft cleaning, eliminated contact with flight crews, likely removal of seat back pockets, and the many other fast evolving measures.
Safety protocols and a slow visitor reopening in Hawaii
Hawaii travel industry leaders are working with state officials in tourism, health and transportation, towards final plans for safely reopening. The efforts required will be wide-ranging and include everything from hotel and vacation rental cleaning methods, to restaurant configurations and much more.
It it believed that once the door is opened to tourism returning, it will happen at a trickle pace. That should provide time for continual adjustments to accommodate unforeseen issues. Heck, at the moment, we can't even got to Costco twice and have the same procedures be in place.
Disclosure: We receive a small commission on purchases from some of the links on Beat of Hawaii. These links cost you nothing and provide income necessary to offer our website to you. Mahalo! Privacy Policy and Disclosures.