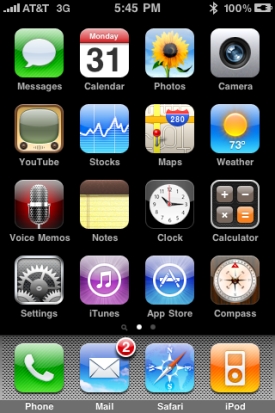 The iPhone 3gs is incredibly useful wherever I go.  Lately I've been leaving my laptop at home and relying on the iPhone for email, web browsing, and so much more.
Here are Beat of Hawaii's suggestions for ten best iPhone Hawaii travel apps:
1.  Music.  My favorite music app is  Hawaiian Rainbow Music Radio. It's non-commercial and free.  Based on the mainland, it sounds local.  As an alternative, KWXX, a Hilo station, also has a free iPhone app, which has commercials and is well, strangely less Hawaiian sounding to my ears.
2.  Getting around.  Here are two obvious Google apps that really work for me throughout the islands.
Google Mobile

. With its voice search, it beats the heck out of typing in what you're looking for while driving.

Google Maps

.  This work as well here as on the mainland.
3.  Photos.  You'll be shooting lots of photos using the reasonable iPhone 3mp camera.  To edit them, there's a new application called Photoshop Mobile which is free and works great.  It crops, rotates and changes photos you've taken with ease, then stores them without damaging the original.
4.  Weather.  I've tried quite a few weather apps on the iPhone but so far prefer the Weather Channel.  It's free, but has ads.  The app uses the phone's GPS and Google Maps for radar, clouds, temperature, precipitation and UV index.
5.  WiFi.  I prefer the free JiWire, which is useful for finding public WiFi networks here in Hawaii, or around the world. It searches for free or paid hotspots by city and zip code.  The results for each island appear accurate.
6.  News.  You won't be finding your hometown papers here in Hawaii, and USA Today is all but gone from the islands too.  iPhone is a great place to stay in touch with news and my favorite news application is the one from CNN priced at 1.99.
6.  Storing Trip Information.
Notes

.  This built in application is a great place to store and quickly access a plethora of useful trip information.  I use it for everything from hotel room number, to parking stall location, to trip phone numbers that I won't need in Contacts.

Camera

.  Photos can be used as a helpful shopping tool, among other (non-snapshot) things.  You can photograph something you see in a store to refer to later.  Perhaps you're shopping for something in your home and take a photograph to refer to while on vacation.
I look forward to hearing your suggestions for iPhone travel uses and applications.
Disclosure: We receive a small commission on purchases from some of the links on Beat of Hawaii. These links cost you nothing and provide income necessary to offer our website to you. Mahalo! Privacy Policy and Disclosures.