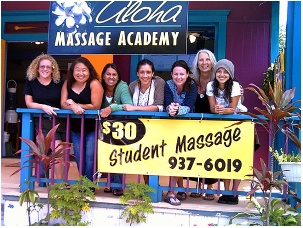 Where's Kainaliu? 10 miles south of Kailua-Kona on the Big Island.
Will an Angel touch you if you go there? Not exactly but you'll feel better after.
Kainaliu is home to the Aloha Massage Academy and Aloha Angel Café.
The Aloha Massage Academy offers a one hour massage for $30! I couldn't believe the price so I decided to check it out for myself. Undercover work has its advantages.
I didn't have high expectations since the massage would be given by an advanced student. I was wrong. My massage was worthy of the expensive ones offered at the major hotels.
The studio ambience is relaxing and professional. My masseuse used a variety of techniques including hot stones and reiki. I was so relaxed I could hardly get off the table when it was over.
Feeling stress free for only $30 left a nice feeling of Aloha on my body and wallet.
Afterwards I floated across the highway to Aloha Angel Café where I've eaten before. Lunch for two was $21. The food was above average for what you'd expect at a coffee shop and service prompt. You'll dine outside on a verandah that wraps around an old theatre.
I felt touched by an angel and I think you will too.
Details:
Aloha Massage Academy, located on the highway in Kainaliu. Appointments recommended. We made ours two days in advance. Call 808/937-6019.
Aloha Angel Café, on the highway in Kainaliu. No reservations needed for breakfast or lunch. Call 808/322-3383.