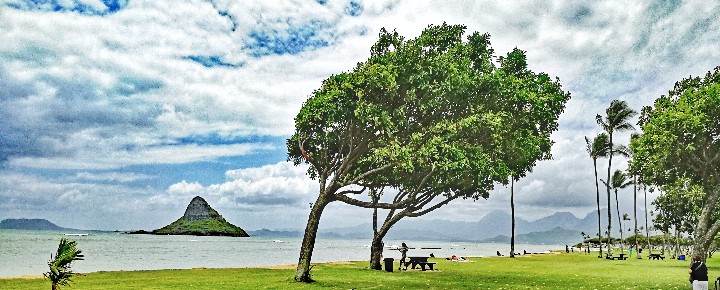 Here's a new spin on the reality show Temptation Island. Bring some high ranking officials to Hawaii and see if they can make it through quarantine without venturing outside. As they stand on their balcony looking at the ocean and some of the world's best beaches, do they have the fortitude to stay inside?
Apparently, the Surgeon General of the United States failed the test.
It is being reported that Surgeon General Jerome Adams received a citation for violation of Honolulu coronavirus policies in August, while he was assisting the state with COVID amelioration planning. The incident took place at Kualoa Park at at Kaneohe Bay, pictured here.
As you know, violations are subject to up to one year in jail and a $5,000 fine. At the same time, we have been told by others who have been cited that their cases have been dropped.
On August 23, Adams officers "Observed ADAMS in Kualoa Regional Park with two other males standing, looking at the view taking pictures." That according to the citation. "They moved to the center of the park to take more pictures. ADAMS put his mask on as he walked back toward their vehicle… ADAMS stated he is visiting here to work with the governor for COVID. ADAMS stated he did not know the parks were closed and could not be there."
A court date has been set for October 21, and the case is active and does not appear to have been dismissed at this time.
Two days later, on August 25, Honolulu's mayor together with Adams announced islandwide closures and a stay-at-home order, while confirming that parks, beaches, and trails were to remain shuttered.
Disclosure: We receive a small commission on purchases from some of the links on Beat of Hawaii. These links cost you nothing and provide income necessary to offer our website to you. Mahalo! Privacy Policy and Disclosures.