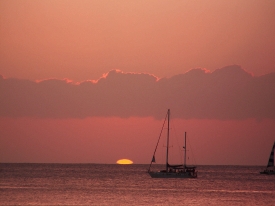 Before you comment that $700 is not a deal and you're going elsewhere, read on. Hawaii summer airfares have been $700 to $1,000 or more for at least the past 15 to 20 years. Airfares have been on the rise globally in recent months, and Hawaii is not excluded. That having been said, there are still some exceptional Summer values to be found.
1. Reasonable airfares. While you may not consider $700 reasonable, contrast that with a price of double or more for West Coast to Europe airfares this summer. The difference can pay for your entire vacation.
Here are examples of good peak Summer (mid-June through mid-August) airfare deals that are widely available at this time:
Los Angeles to Honolulu or Maui or Honolulu $575-$600. Neighbor islands just over $700.
San Diego to Honolulu $500, Maui $600 and other neighbor islands $625. (These are unusually good prices from usually more expensive San Diego).
San Francisco to Honolulu $520, with neighbor islands starting at $650.
Seattle to Honolulu $550, Maui $500, and other neighbor islands $640.
2. Safety. We recently wrote about safety issues in Hawaii and Mexico.  This is obviously an issue of concern to many, as there were numerous comments here on the website and on our Facebook fan page.
3. Airline strikes in Europe. There are ongoing labor negotiations at American, Continental, United, and US Airways. I don't believe it is likely, however, that a dispute will impact your Hawaii vacation. One possible exception is American Airlines flight attendants.
3. Great accommodation deals.  Hotels (or condos) are typically the largest trip expense and can make or break your vacation budget.  In Europe, the price of hotels jumped surprisingly last month, and likely will be going up even higher this summer. Hawaii is blessed with low accommodation rates that should continue for the foreseeable future.
Tips:
Be careful about car rentals.  Prices are going up.  Availability and cost can bite you, so plan for your car well in advance.
Look for alternate departure cities; especially in the San Francisco Bay Area and Southern California. It can make a difference of hundreds of dollars one way or the other.
Subscribe to our email updates.
Disclosure: We receive a small commission on purchases from some of the links on Beat of Hawaii. These links cost you nothing and provide income necessary to offer our website to you. Mahalo! Privacy Policy and Disclosures.