THIS IS A SUPERIOR ROOM ON THE HOTEL'S WEB SITE: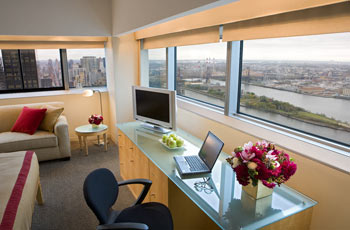 THIS IS THE SUPERIOR ROOM I WAS GIVEN:
I was expecting multiple windows, a corner room, and updated furnishings, based on the superior category I reserved.
This is the first of two parts on what to do if your hotel room does not meet expectations. Tomorrow I'll tell you what happened recently in NYC when I was not able to change the above room. Today's segment offers my suggestions on getting the best room for the price paid.
Here's what I do:
1. Research the hotel's site, and reviews before arriving.
I find what people have said about renovations and construction, corner rooms, views, noise, and areas important to me. Descriptions and photographs on review sites and the hotel's site can be helpful in setting my expectations.
2. At check-in, I ask about the type of room I've been assigned.
If it seems appropriate, I may request a room upgrade at the same price. It doesn't hurt to be members of the hotels' frequent guest program before making special requests.
3. Proceed to the assigned room without making assumptions.
I may not even schlep the luggage. Before I unpack or use the bathroom, I assess the room in relation to what I expected.
4. Return to the front desk if not satisfied.
If the room isn't everything I'd hoped for, seen and read about on the hotel's site and in the various forums, then I go back to the front desk.
Normally the second room will be significantly better. If it isn't, however, I don't t hesitate to go back yet again.
If necessary, I ask to speak with the manager. By this point I may have been offered a major upgrade for a small amount of money. If the offer is reasonable, and there was no misrepresentation in terms of the prior room, then I might just say yes and pay up.
Suggestions:
Ask for what you want based on reasonable expectations given what you reserved and are paying for.
Realize that all rooms in the same price category are not created equal.
Don't be shy, but remain calm and polite. Room change requests are very common and not unexpected by the hotel.
Consider checking a site like Tripkick, a website which offers room by room hotel guides.
Sometimes tipping at the front desk doesn't hurt. In my own experience, however, it usually isn't necessary in order to get a better room.
Stay tuned for tomorrow's description of what happened in the photos above and what we are doing about it.