Who doesn't worry about the implications of needing to change or cancel a flight for any reason? And it happens. Just this month, Beat of Hawaii had the experience of an editor needing to cancel a trip after getting food poisoning. So then what?
Hawaii Flights can be protected in differentways:
1. Those who fly Southwest swear by the ability to cancel any flight and have the funds returned to their wallet.
2. The same, albeit less flexible, is generally true (though not in basic economy) at the other airlines flying to Hawaii.
But in reality, unless you are a frequent traveler with one of these airlines, having money in a "wallet" for a future trip that you may or may not take is simply a hassle. Airlines are counting on the money in these wallets, often not getting used. Most airlines require that funds be used within 12 months of the original purchase, whereas Southwest funds never expire. In any event, if you're a frequent traveler with one airline, this may not seem like a problem. For us, these travel credits are at best a nuisance, as  we need to keep track of them and remember to use them before they expire.
3. Trip insurance coverage can be purchased to refund your money in the event of a cancellation for insured reasons.
The problem with trip insurance is multi-fold. First, it is expensive. It can cost anywhere from 10-15% or more of the purchase price. Add to that the need to file a claim and deal with insurance companies and their rules in order to hopefully get your money back. We've done it and it definitely isn't fun.
Enter cheap refundable Hawaii airfare options—a new and fast-growing industry trend.
When editor Jeff needed to cancel not one but two flights after contracting food poisoning, it was very concerning. This was for two business-class international flights, and the price wasn't cheap. But what happened is this. He had purchased one of the tickets on Qatar Airways. And that business class ticket was refundable except for a 5% service charge. Therein was a no-brainer solution Jeff took advantage of online following a brief customer service phone call. The result was an almost immediate refund of 95% of his purchase price to the original payment.
Next up was a Delta Air Lines flight (that you will soon see reviewed here).
Ultimately, Jeff didn't need to cancel that flight, although he thought he would have to. The good news is that when he purchased that ticket, he paid an extra 15% to have it refundable to the original payment method. So there was never any significant concern about losing out, needing to put the money into an airline account wallet, or dealing with a trip insurance claim.
United Airlines refundable tickets are another excellent option.
One of BOH's editors just bought a ticket to fly from Hawaii internationally, with connections in Denver outbound and Los Angeles when returning to Hawaii. The cost of adding refundability to the original payment method was  15%. Again, that represents a very good value for the ability not to require trip insurance and not have to refund the money to a wallet, but rather be able to change one's mind and hit cancel at any point prior to flight.
Hawaiian Airlines joins in offering inexpensive refundable tickets.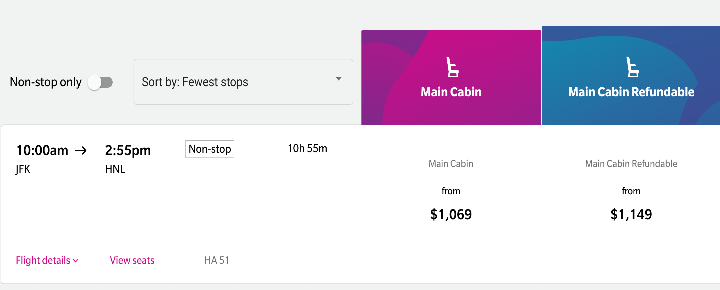 Yesterday BOH was looking at airfares on Hawaiian Airlines for the article we just published about the pros and cons of the new Hawaiian Airlines Dreamliner. What we were happy to discover is seen in the image above. Before this, our experience was that Hawaiian Airlines' refundable fares were so costly as to be prohibitive. But that is no longer the case. The fee to add complete refundability to the above ticket was just under 7.5%, which is a great value.
Why is refundability better than travel insurance?
There are times when travel insurance is unavoidable, and international travel is one of those times. We honestly try to avoid trip insurance for domestic travel to and from Hawaii, as insurance is complicated and costly. You must carefully select all the right coverage options to take advantage of the insurance. The alternative ability to hit cancel on a ticket means you don't need to insure it if you change your mind or can't commence travel.
A 24-hour free cancellation option is always included, no matter the airline.
We can't tell you how often this has worked for many reasons. You buy flights to Hawaii and then can't align it with reasonable accommodations or car rental. Or we've even had the experience of inadvertently buying tickets and suddenly realizing they were for the wrong day.
The US DOT requires that airlines offer protection for 24 hours after booking. The only requirement is that your ticket be bought no less than seven days before the flight. This offer can be in one of two forms. Either the airline must offer the ability to cancel and receive a refund within 24 hours, or they can offer the ability to hold the ticket for 24 hours before payment is required.
The airline industry is returning to refundable airfares, and we love it! What about you?