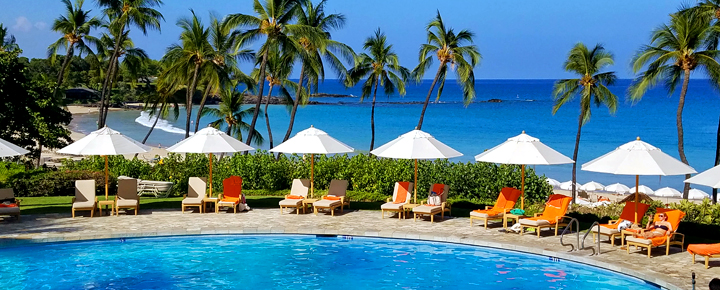 The best time to visit Hawaii for deals varies from month to month and season to season. Christmas holidays, spring break and summer vacation each provide their own challenges and are addressed separately.
The best time to visit Hawaii for Deals in 2017
1. December 27 through March 22, 2017. Snow bird season. Notes: 1) These dates have been updated. 2) We expect better than normal winter 2017 prices and have already seen that from across the US.
3. April 17 through June 8, 2017. Spring low season. Notes: 1) Dates have been updated.
4. June 8 through August 13, 2017. Peak summer travel may or may not be discounted from specific cities as was the case in 2016. Cities discounted in summer 2016 were the three San Francisco Bay airports, Portland, San Diego and Seattle. Discounts were up to 25% off the normal high season rates.
Holidays in Hawaii
While these are not the best time to visit Hawaii in terms of price, they are among the most best times to enjoy a Hawaii vacation!
Christmas in Hawaii. This time of year should always be avoided unless you are willing to pay the highest prices (which can sometimes be double or more). If you do travel at the Christmas/New Year holidays, the lowest prices are usually for flights on December 24, 25, 31 and January 1. Also note that accommodations and cars will also be challenging at the holidays, and, as with trans-Pacific and inter-island flights, should be planned far in advance.
Spring Break 2017. Note: Dates have changed once again. Another time of year to avoid when possible due to the unusually high cost (typically 50% or more higher than surrounding dates). Spring break dates have been updated to reflect most up to date airfares. High season will be from about March 23 through April 16.
Summer 2017. June 8 through August 13, 2017. Other than cities listed above, expect summer prices to be high and deals to be non existent. Early August could see some softening, but that may occur much later, if at all.
Summary. A spring or fall Hawaii vacation gets our unequivocal thumbs up as best choice whenever possible. First, the very finest in Hawaii weather is found during spring and fall. You can also luxuriate in the feeling of having the islands all to yourself. That's something which is only possible during low season. Plus you'll have the best chance to score Hawaii vacation deals.