There are changes afoot at exquisite Hanalei Bay, previously named one of the best beaches in America by Dr. Beach. The bay still rocks with its sparkling blue water and spectacular mountain backdrop. Visitors flock to where The Descendants was filmed looking for the beachfront house in the movie. A new canopy has been placed over the pier thanks to a community effort spearheaded by the Rotary Club. A park extension near Black Pot Beach is in the works and a master plan is due to be completed this summer.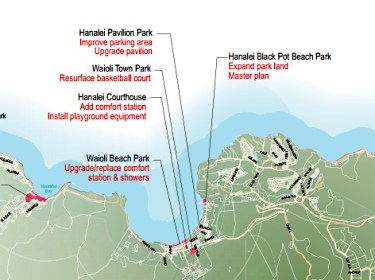 Summer Guide to Hanalei Bay
1. Best Tips for Avoiding Crowds
Drive to the end of the road near the river and park close to the pier at Black Pot Beach with its iconic view. Walk between there and the middle beach where the crowds are fewer. Look behind you and you may spot the house and hedge featured in The Descendants. As you look down the broad stretch of white sand you'll see many people congregating close to the pavilion.  There's no need to be one of them. Enjoy your space and put down your towel.
Tip: A lot of families hang out at Black Pot Beach and there is camping by permit on weekends. This is a good place to picnic and for the kids to have fun when they get tired of the beach. We don't suggest actually swimming at Black Pot because it borders the Hanalei river and the water is usually murky.
2. Superb photo opportunities are had at the rebuilt pier.
The amazing mountain backdrop makes this location the perfect spot.  You'll also get a chance to see kids (and adults) jump from the pier into the water. Sunset is most popular for photography at Hanalei Bay and you'll often see informal beach weddings.
3. Surf can pick up between the pavilion and the second lifeguard station.
Between Hanalei Pavilion and Pine Trees further down, the surf tends to pick up a bit and you need to watch for rip currents. Use caution depending on conditions.
4. Picnic tables, BBQ's and restrooms at Wai`oli Beach (known here as Pine Trees) score high with us.

This is close to the lifeguard station and is normally quieter than Black Pot beach near the pier.  Even though you don't have quite the mountain view, it's still spectacular looking out to the vast ocean.
5. Kauai Snorkeling at Waikoko Beach.
Located on the highway between mile markers 4 and 5, this area is great for snorkeling when calm.  It has a protected reef and is shallow.
6. Brace yourself for the restrooms for either just a bit, or a lot longer.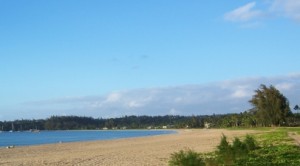 Unfortunately, the best beach in the USA still has the worst restrooms you'll find, especially those at Black Pot. Mayor Bernard Carvalho visited the bathrooms several years ago and was extremely upset by their condition. He returned with a multi-agency team to help speed up the sorely needed work in order to bring the restrooms up to par. Since then nothing has happened unfortunately.
7. July Activities at Hanalei Bay.
Numerous activities take place throughout the summer that you won't want to miss.
31st Annual Tahiti Fête. July 2, 2016. Everyone is welcome to join the Hanalei Canoe Club for a fun filled day in the sun and ocean. It's a community paddling event for visitors and locals that's held at the Hanalei Pier. Tahitian themed activities include not only races, but canoe rides, food and craft booths, music, and kids' events.
Luau at Hanalei Bay Canoe Club. July 23, 2016. Includes food, hula, fire dancing, canoe rides and live music.
Hanalei Swim Challenge. July 30, 2016. Includes a race course for kids and also the 1K and 3K event. Named one of America's Top 100 Open Water Swims by the World Open Water Swimming Association.
If you have anything new to share about Hanalei Bay Beach, please add your comments.  And if you see us swimming at Hanalei be sure to yell, Beat of Hawaii!  We're regular long-distance swimmers each summer. You won't be the first to see us there, and we'll be glad to meet you.