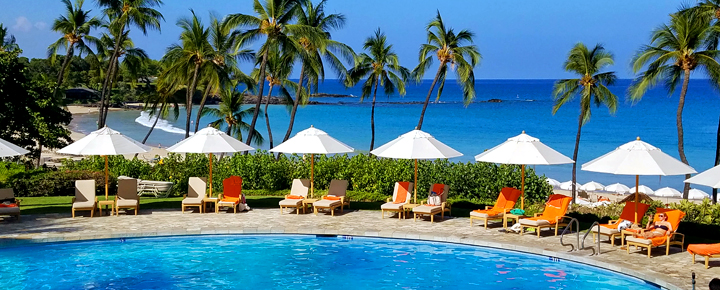 Now including five airports with 15+% off peak summer travel. Just updated with revised dates and tips for Hawaii vacation deals through March 2017.
Our seven-step 2016/2017 guide to the cheapest time to fly to Hawaii includes our latest tips valid for travel through early 2017. This post has been viewed over one million times. Also find questions and answers in nearly 3,000 comments!
Cheapest Time to Fly to Hawaii | Hawaii Vacation Deals Thru March 2017: Introduction.
Great news for 2016 and 2017. Continued competition and strong discounting are resulting in cheaper than normal flights to Hawaii. This is based in part on increased inventory as well as on low fuel prices that permit the airlines to make money even on reduced airfares. Virgin America is now flying to the islands from San Francisco and Los Angeles, which has already provided competitive pressure and better pricing. This will even get better going forward. Plus new planes coming to all carriers starting in 2017 will help with prices on flights to neighbor islands.
Click the ▼ (arrows) below to read each step
Step 1: What to Pay for Hawaii Vacation Deals. ▼
West Coast Departures: Lowest sale airfares starting from the low to mid-$300's round-trip including all taxes and fees. Some fares will be even lower – in the just under $300 RT range. Weekend travel may be (but is not always) $50 to $100 more than midweek.
Midwest and East Coast Departures: Expect to generally pay $250 to $300 more although some sales do result in even lower prices. Note that many mid-west and east coast cities do not get Hawaii deals due to lack of a competitive market. They do, however, still see some price reductions for off-season travel. Weekend flights can run $50 to $100 more than midweek.
Feel free to scan recent Hawaii deals to see what you can expect.
Step 2: When to Travel for Hawaii Vacation Deals. ▼
These best priced mainland departure dates:
Through June 9, 2016. Spring shoulder season.
Peak summer travel is being discounted up to 15% or more from San Francisco Bay airports, Portland and Seattle (see Step 4). Stay tuned to see if Los Angeles joins the list.
August 9 through November 15, 2016. Late summer. New: on the most competitive routes (see Step 4), fares may start to drop intermittently as early as July 28, 2016 while less competitive routes will start between August 9 and August 21.
November 28 through December 12, 2016. Fall shoulder season.
December 29 through March 6, 2017. Snow bird season. 2016 saw better than than normal pricing for these traditionally expensive dates. We're hopeful the same will hold true for 2017 and are already starting to see Very good prices for these dates from key west coast cities.
Christmas in Hawaii. This time of year should always be avoided unless you are willing to pay the highest prices (which can sometimes be double or more). If you do travel at the Christmas/New Year holidays, the lowest prices will usually be for flights on December 24, 25, 31 and January 1. Also note that accommodations and cars will be challenging at the holidays, and, as with trans-Pacific and inter-island flights, should be planned far in advance.
Spring Break 2017. Another time of year to avoid when possible due to the unusually high cost (typically 50% or more higher than surrounding dates). It looks like the peak of spring break will be from March 7 through 24. Those dates will narrow down when we get closer, as is the case every year. Stay tuned  for more updates.
A spring or fall Hawaii vacation gets our unequivocal thumbs up. First, the very best in Hawaii weather is found during spring and fall. You can also luxuriate in the feeling of having the islands all to yourself. That's something which is only possible during low season. Plus the best chances to score Hawaii vacation deals.
Step 3: When to Buy Hawaii Vacation Deals. ▼
This largely depends on your flexibility and how determined you are to take a Hawaii vacation. Sometimes the deal that is available now
is
the best option. That's true even when it isn't the rock bottom price, as other Hawaii vacation deals may or may not materialize later. Monitoring for the very best in cheap flights to Hawaii can also be quite time consuming. If you read the comments you'll hear from people who have missed out by waiting.
Spring 2016 travel – We expect to see both airfare sales and generally reduced pricing continue for travel until June 9.
Summer 2016 travel – book as early as possible for travel through August 8. Do not wait, expecting to find deals from mid-June unless you are flying from the five airports that have peak summer deals. Note: There is an outside chance that Los Angeles will also have lower than expected summer airfares, but that has not happened thus far.
Late summer and fall 2016 Hawaii deals for travel mostly starting August 15 have already started appearing and will until summer. We've already published several rounds of late summer through fall 2016 deals.
Tip: At Beat of Hawaii we have our fishing net out to catch Hawaii vacation deals for you. We'll reel them in and be first to let you know when they appear. Please subscribe to our free mail updates (below) or to our Facebook updates. Then stay tuned and act quickly. If you read our comments you'll see the disappointment of those who are too late to get these time-sensitive deals.
Step 4: Best Cities for Cheap Flights to Hawaii. ▼
Some mainland departure cities continue to have increased competition. Travelers using these airports can expect to benefit most in terms of best pricing and greater availability. Those cities are:
Los Angeles. Improving deals have already started on multiple airlines due to new competitor Virgin America. Watch for more sales starting in May.
New York. Intermittent sales on Hawaiian Airlines (nonstop), United Airlines (nonstop and one stop), and Alaska Airlines (one stop).
Oakland. Best Hawaii deals overall. Running 15+% lower than normal even for peak summer 2016. On Hawaiian Airlines and Alaska Airlines.
Portland. Intermittent sales including 15+% lower than normal even for peak summer 2016 on Hawaiian Airlines and Alaska Airlines.
San Diego. Intermittent deals.
San Francisco. Excellent on and off deals across multiple airlines due to new competitor Virgin America.
San Jose. Still the best Hawaii deals gateway overall. Running 15+% lower than normal even in summer 2016 on Hawaiian Airlines and Alaska Airlines.
Seattle. Good deals on multiple carriers. Peak summer 2016 up to 15+% lower than normal on Hawaiian Airlines and Alaska Airlines.
Step 5: Best Airlines to Fly to Hawaii. ▼
The two primary choices for cheap flights to Hawaii from the west coast are Hawaiian Airlines and Alaska Airlines. Both are highly regarded carriers that have a wide range of offerings. Their prices on competitive routes are usually but not always similar. There are other choices as well, now including Virgin America to Maui and Oahu from the Bay Area and starting in May 2016, from Los Angeles too.
Hawaiian Airlines flies to Honolulu, Hawaii (Big Island), Kauai, and Maui from Las Vegas, Los Angeles, New York, Oakland, Phoenix, Portland, Sacramento, San Diego, San Francisco, San Jose and Seattle. They also offer inter-island service between all islands.
Alaska Airlines flies to Honolulu, Hawaii (Big Island), Kauai, and Maui from Anchorage, Bellingham, Oakland, Portland, Sacramento, San Diego, San Jose, and Seattle.
Virgin America now flies from San Francisco to Honolulu and Maui. Those flights began in late fall 2015. Their entry has spurred repeated Hawaii vacation deals in those markets. They will also be flying from Los Angeles to Honolulu and Maui starting spring 2016. Virgin America was recently acquired by Alaska Airlines. We should see the results of that by early 2017.
Allegiant Air still flies to Honolulu from Las Vegas and Los Angeles. They announced the termination of their Hawaii flights effective August 2016 although they subsequently decided to continue the Las Vegas/Honolulu route for now. Their base ticket cost is frequently the lowest. However, issues include a la carte pricing that includes fees for carry-on luggage and even water on board, seats that do not recline, poor customer service and flight reliability and aircraft maintenance problems.
Legacy carriers, including American, Delta and United all have a range of flights to and from Hawaii from most areas of the U.S. While there can be (and recently has been) discounting on these companies as well, Hawaii vacation deals are not nearly as frequent as from the west coast on the airlines above which specialize in Hawaii.
Step 6: Questions and Comments. ▼
We continue to update this information on Hawaii vacation deals very frequently. Never miss a deal. Subscribe to our free
deal alert emails
.
We look forward to your comments and questions. We try our best but may not always be able to respond to all of these individually and timely. If you read the comments, we have already answered many of the most asked questions. And if you would like to respond to others' comments and questions, we encourage that.
Step 7: Not Sure Where to Go in Hawaii? ▼
If you're new to Hawaii or just need some extra help figuring out where to go and what to do on your Hawaii vacation, we have suggestions.
There are many great online resources just by searching for your topics. These include forums and other websites including the State of Hawaii official tourism site which we recommend.
We also use and recommend the highly regarded online and print guidebook series, Hawaii Revealed.
 It is great for island by island planning.
Lastly for the first time visitor who would like to visit multiple islands, read our better-than-expected review of the all-Hawaii NCL Pride of America cruise.
E komo mai (Welcome). Mahalo and A Hui Hou!