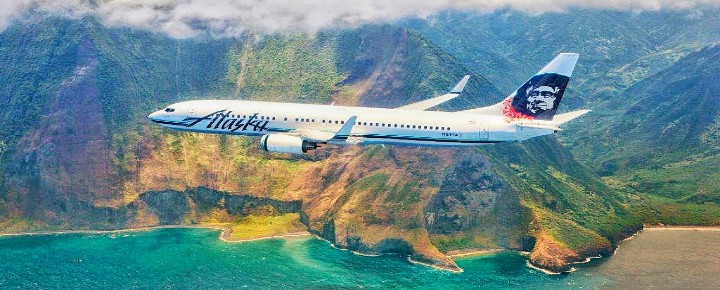 Flying to Hawaii for $99 is possible again today, but not for long, and what comes after that, may yield some sticker shock. Read down for those details after the sale offer.
Today's sale Hawaii airfares are valid in both directions, starting on the mainland or in Hawaii, on the routes listed below.
Tickets must be purchased soon, as availability is very limited and the entire offer is scheduled to end tomorrow. So it would be best if you buy now. Visit any of the four islands.
See details and available dates below. Enjoy the perfect Hawaii vacation that starts with Cheap Flights to Hawaii! Luxuriate under the glorious Hawaiian sun.
$99+ Alaska Airlines Deals |  Featured Routes to Kauai
San Diego $99
San Jose $99
Portland $129
Seattle $149
$99+ Alaska Airlines Deals |  Featured Routes to Maui
San Diego $112 (few dates)
San Jose $99
Los Angeles $159
Portland $159
Seattle $159
$99+ Alaska Airlines Deals |  Featured Routes to Kona
San Diego $99
San Jose $99
Portland $144
Seattle $149
$129+ Alaska Airlines Deals |  Featured Routes to Honolulu
San Diego $129
San Francisco $129
San Jose $129
Seattle $179
Portland $19
Airline: Alaska Airlines.
Purchase and Travel dates: Purchase online immediately; sale ends May 5. Then travel until June 9, depending on the city pairs. Some routes, however, are only on sale for the next week or two.
Fares and Availability: Prices listed are the lowest fares we found each way in these markets at the time of publication and aren't always available in both directions. There is limited availability, not on all dates or flights. Some routes are much more limited than others. That's why prices are lower than those found elsewhere. These are "saver fares," have limited or airline assigned seat selection, and are last to board. Main fares are priced at $30 more.
Tips: Travel can start either on the US Mainland or in Hawaii. Try looking for one-way fares and combining two of those into and out of different islands to create your own custom island hopping in Hawaii experience!
How to Book: You cannot call to get these Alaska Airlines Hawaii deals. Online booking only. Additional fees and other fares may apply to phone reservations.
New airline dynamic pricing will yield higher summer Hawaii airfares.
In looking at summer prices for Hawaii airfares, across all of the airlines, we got a dose of sticker shock. Prices are on the climb and are set to return to previous levels. Honestly, the only thing keeping fares in check at this moment, is Southwest Airlines. Their entry into the Hawaii market, interrupted by Covid, hasn't quite settled in yet, competitively speaking. Therefore, in the west coast markets they fly, prices remain suppressed by up to 50%. That's where you'll find the best deals, no matter which airline you choose.
Alaska is just one of the airlines moving to automated, dynamic pricing. Today Alaska announced they have partnered with APTCO, and will use their Architect pricing tool going forward. Airlines can spend less time on fares using such tools, which find the best yields using extensive data about out shopping habits, among other things.
Alaska Airlines' revenue manager Kirsten Amrine said, "When ATPCO showed us the capabilities of Architect, we saw a clear vision that aligned with the way Alaska Airlines imagines the future of pricing management. Architect's capabilities enable us to be even more strategic, and we are taking advantage of the efficiencies Architect offers to unlock the full revenue potential of our network and pricing strategy."
We're not picking on Alaska in terms of dynamic pricing, as they are just an example of what all airlines, hotels, and car rental companies are doing. And we have a great deal of experience with dynamic pricing across the travel industry. Dynamic pricing is a way to price products (airfares in this case) according to prevailing market conditions. Prices can be changed in real-time, based on data including, customer search and booking patterns, competitors pricing, and other factors like events (think Ironman).  The goal is to adjust prices quickly to increase profitability with the highest possible pricing that doesn't damage demand.
Updated, May 4, 2022.
Disclosure: We receive a small commission on purchases from some of the links on Beat of Hawaii. These links cost you nothing and provide income necessary to offer our website to you. Mahalo! Privacy Policy and Disclosures.