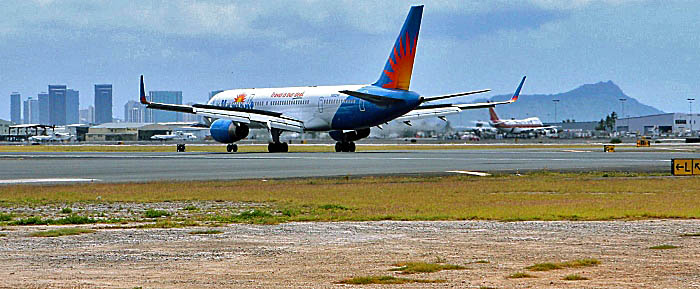 One of the new Allegiant Hawaii routes has been cancelled before it even got started. Friday, the Las Vegas based carrier announced that planned service between Monterey and Honolulu has been called off. The weekly service was due to commence next month. This is a disappointment in terms of Hawaii travel deals.
Bookings did not materialize
Allegiant's Jessica Wheeler said "unfortunately we didn't see the bookings we anticipated." That doesn't come as a surprise to us, as Monterey and neighboring Santa Cruz are geographically isolated with a relatively limited community of Hawaii bound travelers. In addition, 90 minutes away in San Jose is a plethora of presently inexpensive Hawaii flights to all the islands.
Not a surprising change
We've been expecting changes in the Allegiant Hawaii route plans and suspect this won't be the last shift to occur. The carrier is smart and nimble which will allow them to quickly bring their Hawaii plans into alignment with market opportunities and demand. We hope to see more new Allegiant Hawaii routes including flights to the other islands. Their current services and those planned are primarily to Honolulu. Savvy Hawaii travelers frequently choose the neighbor islands as their destination of choice, and  island hopping to get to them has become too costly to be practical.
Allegiant Hawaii service is new paradigm
In addition to featuring their newly acquired 757 aircraft, Hawaii represents a different travel model for Allegiant. The Hawaii service may attract a distinct type of customer when compared with the carrier's mainland services. Other routes largely rely on packaged travel including hotel and other purchases by customers who are not brand loyal frequent flyers. Hawaii visitors, however, are typically more familiar with the destination, may be repeat visitors, and are more independent when it comes to buying airfare separately from accommodations and activities.
It will take some experience for Allegiant to make sense of Hawaii and have it be a winning proposition. With their savoir faire, I have no doubt that they will be as successful in Hawaii as on the mainland. That's good for visitors, Hawaii and Allegiant.
---
Disclosure: We receive a small commission on purchases from some of the links on Beat of Hawaii. These links cost you nothing and provide income necessary to offer our website to you. Mahalo! Privacy Policy and Disclosures.