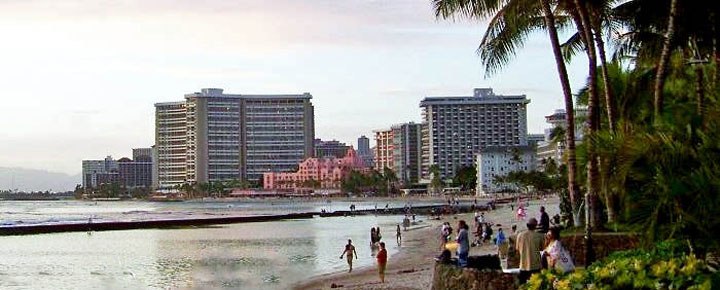 As if we needed another reason to try Hawaii vacation rentals, including Airbnb, earlier this week, a Marriott Hawaii strike is impacting 3,000 employees on Oahu and Maui. Their union says that they won't return to work until contract negotiations are completed.
Read our recent post: Hawaii Vacation Rentals vs. Hawaii Hotels | 20 Helpful Tips.
What can you do if this strike impacts you? 
If you are not provided the services you are paying for, you may seek compensation for those. Check with your credit card company first. Then contact Marriott via the hotel general manager or by email at customer.care@marriott-service.com. We've had good luck via all methods.
Scope of current strike in Hawaii.
The strike currently affects five hotels operated by Marriott, including Sheraton Waikiki, Royal Hawaiian, Westin Moana Surfrider, Sheraton Princess Kaiulani, and Sheraton Maui. Visitors are complaining of lack of services from no housekeeping to pool closures. Some are asking for full or partial refunds. For many who have saved for their Hawaii vacation, this has tarnished their feeling of Aloha.
You'll find workers picketing at all the hotels. This comes as the result of conflict regarding technology and automation, job security, and workplace safety. Workers want pay to provide enough income so that multiple jobs are not required to live.
The workers who are striking are related to housekeeping, food and beverage, and front desk, among others.
From Owner Kyo-ya Hotels and Resorts.
The company said: "We have implemented contingency plans which ensure that the Sheraton Waikiki, The Royal Hawaiian, Moana Surfrider, Sheraton Princess Kaiulani, and the Sheraton Maui continue to offer our guests an enjoyable experience during their stay in Hawaii. There have been some adjustments to staffing levels and services being offered at our properties. We have notified our guests and business partners of the situation and are providing them with ongoing updates."
Disclosure: We receive a small commission on purchases from some of the links on Beat of Hawaii. These links cost you nothing and provide income necessary to offer our website to you. Mahalo! Privacy Policy and Disclosures.