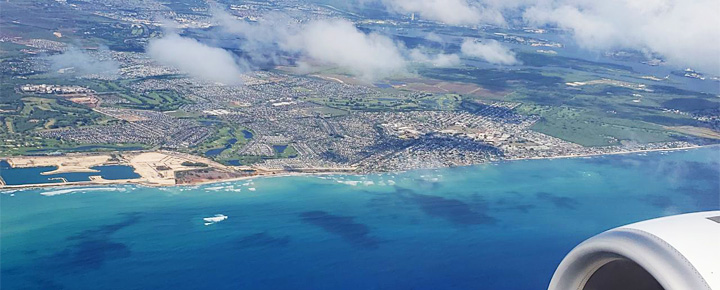 Hawaiian Airlines sees a rosy picture of Hawaii travel, and based on the demand for summer travel, it will beef up its service on five routes. This also means the potential for some deals on these city pairs.
Hawaiian will greatly increase its service between the following cities:
Honolulu to Austin. One more flight, bringing the weekly total to four flights from May 26 through August 18.
Honolulu to Boston. Hawaiian will add one more flight, bringing the weekly total to five flights from June 15 through August 17.
Honolulu to Las Vegas. A most popular route for Hawaii residents as well as visitors, the airline will add one more flight, on Wednesdays from May 31 through August 30, and another flight on Saturdays from June 3 through July 29. That will bring the total number of flights to 20 per week.
Honolulu to Los Angeles. Hawaiian will add two more flights on Tuesdays and Fridays from June 2 through July 28. That ups the LA total to a whopping 23 flights weekly.
Honolulu to Pago Pago, American Samoa. The carrier will add one more weekly flight on Wednesdays from June 7 through August 30, bringing the total weekly flights to 3.
Hawaiian sees robust Hawaii travel demand ahead.
Hawaiian Senior VP Brent Overbeek said, "We're encouraged by the robust demand for travel to Hawaii this summer season, and these increases signal a healthy return in our key North America markets, We're also excited to add a fourth HNL-LAX option, and second redeye flight, twice per week making other U.S. Mainland connections seamless and convenient.
Disclosure: We receive a small commission on purchases from some of the links on Beat of Hawaii. These links cost you nothing and provide income necessary to offer our website to you. Mahalo! Privacy Policy and Disclosures.