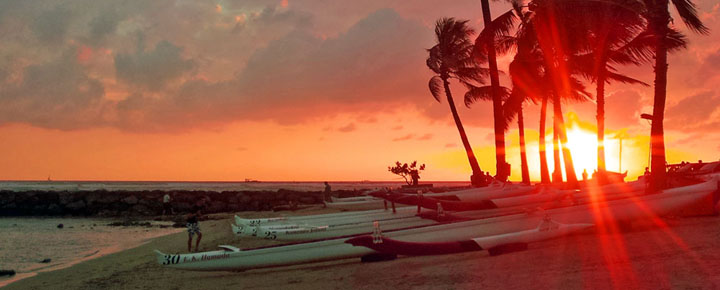 Daylight Saving Time will end soon but there will be no change here in Hawaii. Why? Read on and also find out what Benjamin Franklin has to do with this.
Hawaii gave DST a try back in 1933 for three short weeks. No one even seems to know why we ever tried it. It was in effect once again during World War II when it was called Hawaiian War Time. Hawaii officially opted out of the Uniform Time Act in 1967.
With our tropical location, daylight savings is not necessary. We're closer to the equator than the mainland so there's less of a difference in the amount of daylight between seasons.
When you're visiting or calling to Hawaii from November 5 until next Spring, remember that Hawaii will be only two hours earlier than west coast. Somehow this one hour time difference in winter makes us feel a little bit closer to the US Mainland.
How do you like my Hawaii time watch?
History of Daylight Saving Time
Often mistakenly called "daylight savings time," this practice was created to make daylight extend further into summer evenings, while creating darker mornings. First proposed by Benjamin Franklin in the 1700's in an essay for Paris. The first national implementation however, was in Germany in 1916.
Daylight Saving Time Today
It remains a wide-scale global practice to this day, albeit under different names like Summer Time. About half of the world still observes this annual shift in time. It remains somewhat confusing, with our needing to remember those places that practice it and others that do not. Most of the US observes DST, except Hawaii and Arizona (although the Navajo tribal lands do), plus Guam, American Samoa, Guam, the Northern Mariana Islands, US Virgin Islands and Puerto Rico.
Disclosure: We receive a small commission on purchases from some of the links on Beat of Hawaii. These links cost you nothing and provide income necessary to offer our website to you. Mahalo! Privacy Policy and Disclosures.