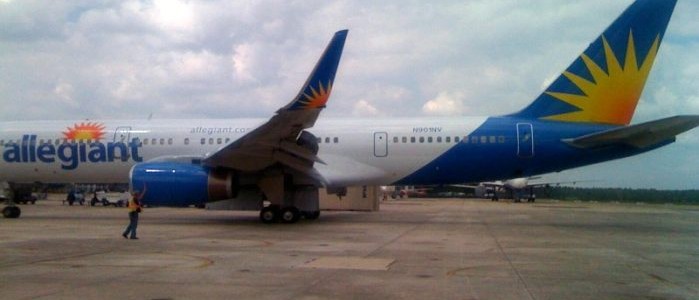 Breaking News. When Southwest confirmed plans to serve Hawaii, just one day after I suggested they would, it led me to speculate that they may have poked the proverbial pin into Allegiant's Hawaii balloon.
Now, new facts have come to light that may suggest a complete change in Allegiant's plans.
The recent evidence
Allegiant appears to have disposed of the first two 757's they acquired specifically to serve Hawaii routes. As you know, regulatory delay caused Allegiant's Island debut to be postponed until 2012. They indicated the planes would be used on the US Mainland pending flag carrier status and ETOPS certification. Instead, internet photos have recently surfaced that show what clearly appear to be the Hawaii bound planes now in the livery of Air Finland and Jet2Holidays.
Alaska Air and Southwest
1. Alaska's Key and Expanding Role.
Moderate sized Alaska Air has taken up an aggressive and strategic position on Hawaii, opening up new routes from up and down the West Coast. That included a preemptive move into Allegiant's favored Bellingham Airport.
We still anticipate Alaska Air entering Hawaii's inter-island market, either in competition with the existing carriers, or through an agreement with minor player Go!Mokulele to replace their service. This could happen at any time. In fact Alaska's recent decision to eliminate its Horizon commuter name in favor of the better known Alaska name was probably in part in preparation for branding its move into Hawaii.
2. Next comes Southwest.
Dominant Southwest seems determined to serve Hawaii starting one year from now upon delivery of their new 737-800 aircraft. They continue to move quickly with these plans. It seems likely that Southwest will also enter the inter-island market, if Alaska does not take up that position before them. Don't forget, Southwest just acquired 86 Boeing 717's as a part of their Air Tran acquisition. That aircraft being identical to Hawaiian's inter-island workhorse.
Stay tuned
We are far from the end of this story. The good news is that it appears that significant competition going forward will improve opportunities for reasonably priced airfares between the U.S. Mainland and Hawaii as well as inter-island.
Subscribe to our email updates.
Disclosure: We receive a small commission on purchases from some of the links on Beat of Hawaii. These links cost you nothing and provide income necessary to offer our website to you. Mahalo! Privacy Policy and Disclosures.