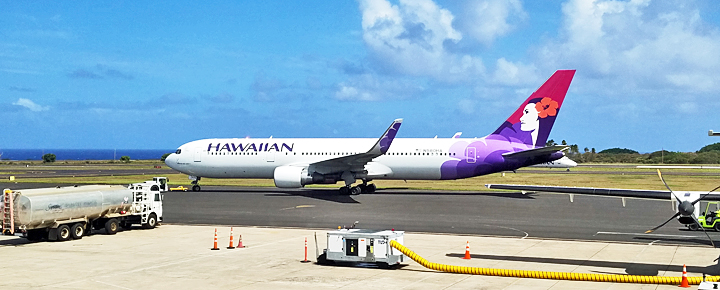 Yesterday we watched Hawaiian CEO Peter Ingram speak during a webcast of an investor presentation at the 2020 Wolfe Transportation and Industrials Conference. Peter made reference to an "incredible destruction in revenue," saying that Hawaiian Airlines doesn't "even know right now where demand is" That as a result of the still in force 14-day mandatory isolation, now set to extend through June 30. 
Optimism at Hawaiian Airlines.
Peter expressed "some optimism" that vacation travel would recover more quickly than business travel. Peter said that visitor intent on booking has started noticeably increasing. 
While businesses can meet on Zoom, he stated what we all know, saying he is not "sure this is how people are going to want to take their next Hawaii vacation." 
A plan for lifting of 14-day period essential.
"I think putting a timeline on the lifting …would be very helpful to give people a little more certainty about booking, particularly for the third quarter…We are seeing a little bit more activity looking in the fourth quarter." — Peter Ingram.
Beat of Hawaii. To us, Peter's comment is a huge understatement. At this challenging time in so many ways, who in their right mind would put down money for a trip to Hawaii, until they feel assured that they will be able to travel without going into a two-week lockdown? That, even before all the considerations of how safe and comfortable people feel traveling in today's altered circumstances.
Peter believes that how things are going in terms of case counts, in Hawaiian's "bread and butter" markets of California, Oregon, and Washington, will be pivotal to Hawaii's decisions. He said, "I think that is going to inform how people make their decisions locally."
Other changes already in place.
Last week the company implemented additional wide-ranging initiatives. Those include blocking middle seats, increasing and improving aircraft cleaning, modifying boarding, limiting it to only three to five rows at one time, and requiring personnel and customers to wear face masks. Hawaiian Airlines also said it concurs with the Airlines for America plan to require passenger and employee temperature checks. The full list of their health and safety plans is found here.
Interisland restrictions may be lifted sooner.
Peter confirmed what we have been hearing for weeks, which is that the interisland travel restrictions will soon be lifted, ahead of June 30. He said "Hawaiian is in a unique situation in that we are the entire highway system for the state."
We look forward to normal interisland travel resuming.
Beat of Hawaii photo at Lihue, Kauai. ©
Disclosure: We receive a small commission on purchases from some of the links on Beat of Hawaii. These links cost you nothing and provide income necessary to offer our website to you. Mahalo! Privacy Policy and Disclosures.