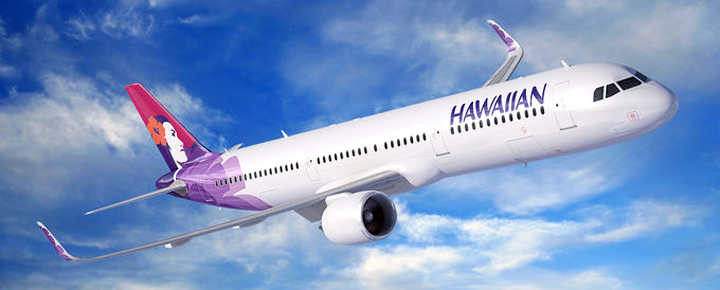 Hawaiian Airlines COVID tests are set to be offered to passengers beginning about October 15. That in order to avoid a mandatory 14-day quarantine. The bellwether airline has initially partnered with a mobile testing lab company to offer two drive-thru options.
For a fee of $90, testing will be available within the required 72 hours, whereas for $150, tests are taken and results returned on the day of travel (in less than 5 hours). Test results are obtained using a phone app. The service is being offered in dedicated portable labs to be set up in multiple locations. The first labs will be in the Los Angeles and San Francisco areas, but they are expected to soon expand to cover most if not all of Hawaiian's 11 mainland gateway cities. Today's announcement comes one day after United Airlines Hawaii Covid tests were announced.
The type of Hawaiian Airlines COVID tests being offered is what Hawaiian is calling "Droplet Digital PCR shallow nasal swab tests – a 'gold standard' COVID-19 screening that meets the state of Hawai'i guidelines."
Hawaiian Air SVP Avi Mannis said "As Hawai'i's leading airline, it is critical to ensure that access to testing does not impede travel to Hawai'i, for visitors or our kama'āina (residents)… Our testing option will offer Los Angeles and Bay Area travelers superior value and we look forward to expanding the program and bringing additional choices to more of our gateway cities as we welcome guests back."
Hawaiian's first testing partner is Long Beach, CA-based Worksite Labs which offers "drive-thru labs" that are creatively using what appear to be traditional shipping containers for the lab space. CEO Gary Frazier said, "Worksite Labs is proud to offer Hawaiian this innovative solution as we work to combat the current pandemic and provide more testing options so travelers can understand their COVID-19 status and enjoy their trip to Hawai'i while stimulating the local economy." Hawaiian said that they will shortly announce other testing partnerships.
Issues remain to be addressed.
We are unable to determine the minimum age for the Worksite Labs tests. Prior options announced have only been available for passengers age 12 and above. We have heard, however, that testing for children, or a waiver in the testing of children under certain ages, will occur.
Where will these locations be set up, and exactly what does drive-thru mean in this context. We don't see driving through a shipping container if you know what we mean.
Furthermore, what about spending five or more hours sitting next to people on a plane who may or may not have been tested? This remains a sticking point, as many of you have pointed out in your comments. It will take federal government action, however, for that to change, and there has been no indication of that being forthcoming. On the other hand, we are doubtful that many travelers will be willing to go into quarantine. Thus, the question is, practically speaking, how many passengers will be untested. We will undoubtedly get answers to that question very soon after Hawaii travel resumes. Also see As Hawaii Restarts Visitors Concerned About Airports, Airplanes and Others.
Changes to Hawaiian Airlines Schedule.
Through October, Hawaiian has reduced planned flights and removed many of those to neighbor island destinations. From Los Angeles and San Francisco, for example, the airline is now showing nonstop flights only to Honolulu. Starting in November, however, Hawaiian plans to resume flights to neighbor island destinations, Kauai, Kona, and Maui. That change in schedule is likely due to multiple reasons, not the least of which is to allow Hawaiian to assess demand when travel resumes without mandatory quarantine on October 15. We'll be updating you on the Hawaiian Airlines flight schedule as it evolves.
Does this change your Hawaii vacation plans?
Disclosure: We receive a small commission on purchases from some of the links on Beat of Hawaii. These links cost you nothing and provide income necessary to offer our website to you. Mahalo! Privacy Policy and Disclosures.