Today is the 37th annual National Doughnut Day, and that's something that we can personally get behind celebrating. As a kid Jeff virtually lived on doughnuts, and confesses loving them to this very day (read on). National Doughnut Day was originally created by the Salvation Army to honor women who served doughnuts to our soldiers during the first World War. It's now celebrated the first Friday of June.
Enter Malasadas
This amazing Portuguese confection was introduced to Hawaii in the late 1800's when plantation workers brought them from the Azores and Madeira. They became interwoven with the culture of Hawaii and are a ubiquitous year around treat. Malasadas are egg-rich doughnuts traditionally fried then coated with plain sugar. Modern interpretation adds cream, jelly and other assorted fillings. Historically they were also a way to use up lard that would otherwise be forbidden during Lent.
Leonard's Bakery
Honolulu's inimitable Leonard's Bakery is quintessential Hawaiian malasadas and has been since 1952. It was founded by the grandson of sugar cane immigrants who came to Maui in 1882 and is still run by Leonard Jr.'s children today. The address for which they're famous is 933 Kapahulu Avenue, although you can now find their doughnuts in other locations including their Malasadamobiles. They're even in Japan. If somehow you've missed Leonard's, we highly recommend you head over  there on your next Hawaii vacation.
Malasada Day
Yes, there's another doughnut holiday each year called Malasada Tuesday. It's the same Shrove Tuesday (day before Ash Wednesday) that's also known as Pancake Day, Fat Tuesday and Mardi Gras. On that day you're guaranteed to find lines around the block at Leonard's.
Jeff's Doughnuts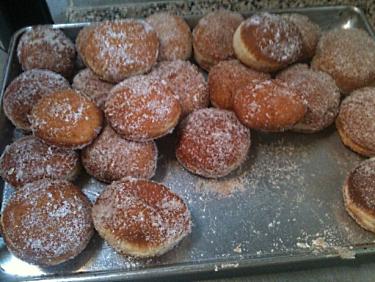 "I have to confess that while I love malasadas, my lifelong passion is jelly doughnuts. Because of my obsession with the supreme doughnut, years ago I took to making them myself. Here's what they look like. Because I can't control myself with these, I usually limit production to once or twice each year. And today is one of those days."
Do you have any malasada or doughnut stories to share?