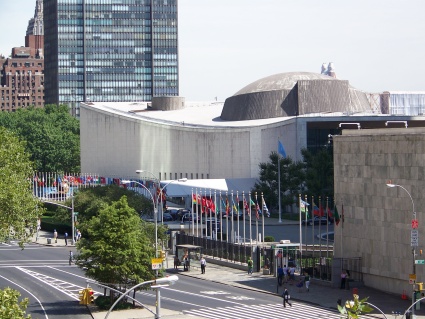 Yesterday I gave you my advice on what to do when your hotel room does not live up to expectations. Normally I complain immediately if I'm unhappy. On my recent trip to New York I was stuck with a bad room for 6 nights.
Here's what happened at New York's Millennium UN Plaza Hotel:
I booked a "superior room" through a Travelzoo promotion for $199 per night. This did not include the unbelievable daily charge of $12.95 for Internet.
At check-in I had just flown eleven hours through six time zones and was not feeling on top of my game. All I wanted was a bed. It was 9am and I was told the room would not be ready until 3pm.
By the time I got to the room I was completely wasted and had actually fallen asleep sitting in the lobby. It was not until the next day that I realized the room was not what I had been promised.  Even then, I was too tired with jet lag to deal with it.  I knew I'd been taken, but couldn't deal with repacking and changing rooms.  Damn.
Here's what I've subsequently done about it:
1. Soon after checking out, I received an online questionnaire from the hotel, inquiring about my stay. Had I not received that, I was prepared to contact the management directly.
2. The hotel's general manager responded as follows:
…I had a chance to review the survey that you recently completed. We are sorry to learn that you encountered some service inconsistencies during this visit. In particular, your remarks concerning your accommodations. We also regret that you did not receive any assistance by Front Service and have addressed the poor performance with the appropriate managers and staff so that measures may be taken to prevent deficiencies such as you experienced. In the meantime, please accept our sincere apologies for having caused you disappointment and inconvenience….

Sincerely,
Mark Irgang
General Manager
3. I responded to the General Manager:
…When we checked out, the gentleman at the desk asked how things had gone and I told him about our dissatisfaction with the room and the misrepresentation compared with the photographs of our room type on your website. He said that we were in an old and unrenovated section (however that would not account for the window discrepancy).

Superior room on website photo:

Our "superior" room:

Under the circumstances, I think something more than I'm sorry would be appropriate….
Sometimes you win and sometimes you don't. It's important to know when to let go so your vacation is not ruined.
One of the best comments I read recently is saying this to the Front Desk agent at check-in:
"Give me the room you were going to give me after the one I came downstairs and complained about. "
PS:  If we hear back from the hotel, we'll let you know.