It has been some time since we flew on Hawaiian Airlines A321neo narrow-body, and when last we did, it was in economy. To round out that experience, we jumped on an HA flight from Lihue to Los Angeles, and here are all the details. You'll recall that we previously gave accolades to Hawaiian on their wide-body service in our review entitled, Stunned! Hawaiian Airlines First Class Lie-Flat Review.
Unfortunately, we did not have nearly the same experience on this flight. And being gluttons for punishment, we again flew into LAX, where, though no fault of their own, Hawaiian has the dregs in terms of its gate position and terminal. See Hawaiian Airlines LAX experience nightmare for those details, which unfortunately remains true today.
To contrast today's article, we'll next share a Delta Air Lines' Hawaii first-class flight review on their A321neo plane, which was BOH's return flight. The differences are significant and weren't quite what we expected. But first, the Hawaiian Airlines first class review | A321neo.
Two editors jumped onboard HA flight 64 earlier this month. The 5 1/2 hour flight was onboard a 5-year-old Airbus A321-neo with 16 first-class seats.
Recently a comment from Deborah said about Hawaiian, "The best first class experience! I've tried 3 airlines to and from, Delta was the worst!!!! Hawaiian is by far the top no matter where you are in first, I will only fly this airline between Hawaii and California. Well worth the price!" We agree if that was a wide-body review with lie-flat seating.
As always, Beat of Hawaii paid in full for this trip, and unless they happened to check our reservations, Hawaiian Airlines was unaware that we would be onboard. The flight cost from Los Angeles to Honolulu Airport in First Class was $630. The A321neo is a traditional reclining seat rather than a lie-flat, which is usually priced significantly higher. Read on to see if you think it was a good investment.
You'll find many other website reviews of this Hawaiian Airlines first-class product. This review is unique because our focus is exclusively on Hawaii, and we live here. While we travel outside of the islands and write about that as a means of comparison, we are entirely Hawaii-centric.
Also, in contrasting the A321neo on Hawaiian (and Delta, for that matter), we find the seating somewhat more comfortable than on Alaska Airlines first class.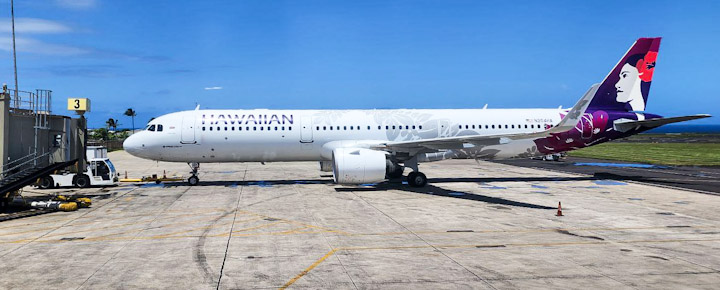 What we liked and didn't on Hawaiian Airlines' A321neo first class.
First, the service was to be candid, lackluster. There was nothing terrible about it, but there was nothing particularly good either. We always had to ask for water, and the flight attendant was polite but not outgoing or proactive. When you pay extra for first class with a higher crew to passengers ratio, you expect more attentive service. Since Hawaiian knocked that out of the ballpark when we reviewed the A330 first class, we anticipated the same here.
Other things we didn't like included the quality of service, the food concept, and the tight and uncomfortable seats.
This A321neo aircraft is on many of the Hawaiian's west coast flights (and is also used by Delta and American). That's especially true to and from the neighbor islands and on less busy routes. The wide-body A330 flights, on the other hand, are typically reserved for heavier routes such as Honolulu and Maui to JFK, Boston, Los Angeles, San Francisco, Las Vegas, Phoenix, Portland, Austin, and San Diego, among others. Airlines love the A321neo more than passengers do, because of its extreme fuel savings of 20% over other aircraft,
Cost: First class 10/10.
The amount that Beat of Hawaii paid was low by most standards. But that didn't happen easily. When first looking, the price offered was eye-popping at $1,659, one way. As you may recall, Jeff decided to fly on another airline at that point until the alert he'd set told him the price had dropped suddenly to $630. Only one ticket at that price was offered, but after buying one, he was able to return at buy the second seat at the same $630 each price. Otherwise, trying to buy two together, the asking price remained stratospheric. That's part of the airline industry's games.
Read all this flight's pricing details in How We Saved 62% On Hawaiian Airlines First Class.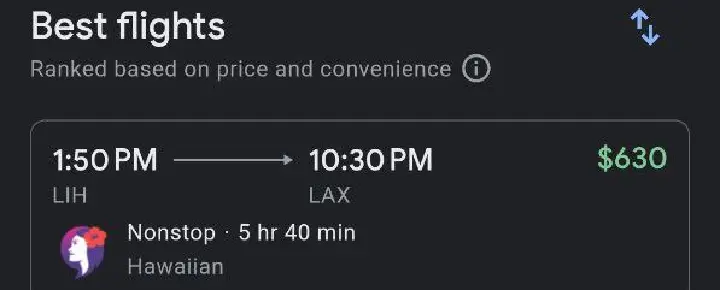 As for the value received for the $630 cost, it was good and far better than being stuck in the back. Had we paid $1,659, we would not have been satisfied. It's good to note that four of the first-class seats were not occupied.
Check-in: 10/10.
The online check-in process was fine using their new Amadeus reservation system which was so painful for Hawaiian's customers when it was recently implemented. There were a few glitches, such as when the system suggested an upgrade when no further upgrade was possible. The airport experience was fine too, using their Premier and first-class line with little wait. First class includes two free checked bags, which otherwise cost $70.
At Hawaii airports, first-class passengers have access to the Hawaiian Airlines Premier Clubs, which are just okay.
Boarding: 10/10.
Boarding was on-time, and there were no issues. Upon arrival at the aircraft door, there was no personal greeting or escort, which we did have on our HA wide-body A330 flight.
On-time Performance: 10/10.
The flight was on-time. Boarding commenced about 30 minutes before departure. The door was closed 10 minutes beforehand, and the flight departed the gate on time.
Food and beverage: 7/10.
No pre-departure beverages were offered other than bottled water left on our seats. Service was provided primarily by one flight attendant who never introduced themselves nor called us by name. The flight attendant offered a menu after takeoff and discussed options for beverages and food. Hawaiian, unlike Delta and Alaska, for example, offers no meal preordering. There was one personal touch when Jeff asked the flight attendant to create a mocktail not on the menu, which turned out great.
There was no traditional hot towel service which many airlines have suspended. Table linens were provided, then ordered beverages were delivered together with a bowl of macadamia nuts as is traditional for Hawaiian. When the food was served, it was done all at once (except for dessert), with no separate offering of salad/appetizer at the beginning. The different courses served individually are customary in first class and are done by Hawaiian on their wide-body A330 flights.
The entree choices were two, which is less than expected. There was either a Chicken Schnitzel or a Zucchini and Pea Risi e Bisi. Dessert was an Opera Cake. The food was acceptable, neither good nor bad. The variety and sensibility of the food seemed dated. The quality was acceptable but not excellent. The dessert, a well-prepared opera cake (below) from La Tour Cafe, was the best part.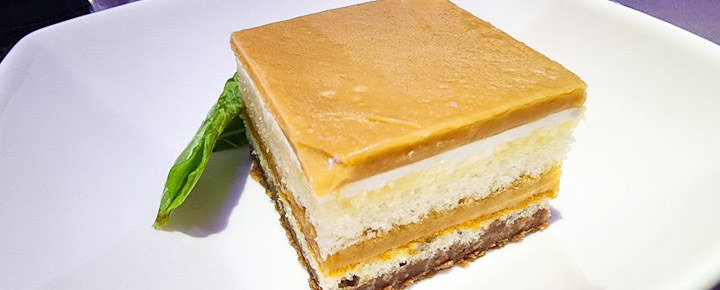 Nowhere in sight were cans of Jason Momoa's Mananalu long-forgotten water.
And as the final parting touch, a candy was offered. That seemed normal for economy, definitely not for first class.
Aircraft condition: 10/10.
The 5-year-old plane was in great shape, with no signs of wear and tear.
WiFi/texting: 0/10.
There is still no WiFi or texting on Hawaiian Airlines. However, they intend to finally provide free high-speed satellite WiFi starting in 2024. That will be a massive improvement as they are currently the only airline flying to Hawaii without any WiFi offering.
See how WiFi is working on flights to Hawaii in Wi-Fi Blues Strike Hawaii Flights On All Airlines.
Flight attendants: 7/10.
The staff-to-passenger ratio was significantly less than on the wide-body plane. The service was adequate but nothing beyond that. It was unengaged and paled compared to the stellar A330 first-class service—even a basic like getting enough water or having ice when you first asked for ice.
Notably, the A321neo is a very challenging plane for cabin crews, as we've heard many times across different airlines. It is hard for them to provide the same level of service with the single-narrow aisle configuration that can be done on a generously wide A330.
Cockpit crew interaction: 10/10.
Multiple professional announcements were made from the flight deck and by flight attendants from before the flight started until arrival.
Seating and comfort: 8/10.
The 2-across seats on Hawaiian are the very same ones used by American Airlines on their A321neo fleet.
A fleece blanket and a pillow in a bag were on each first-class passenger seat when entering the aircraft. The storage under the seat in front is almost non-existent on this aircraft.
Passengers cannot avoid crawling out over someone else in the A321neo. On the next A321xlr variant coming to American and United, the premium configuration will be just one seat on each side (instead of two). Also, unlike on the A330, there is no privacy screen between passengers. All first-class guests are provided with both USB-A power on the back of the seats in front of them. AC power is under the armrest next to the seat in a handy storage bin.
The seats are attractive but could be more comfortable for a 5+ hours flight with just okay legroom. While they are wider than economy, the seat felt hard into the flight, which we, at least, did not experience on the A330 wide-body. There is a tray table that both folds and has an extension for holding an entertainment device. Guest-controllable air vents and reading lights are above each seat which is nice. The overhead bins are substantial. As is the case on all A321neo planes, the lavatories are small and there are no accessible ones.
Inflight Entertainment: 9/10.
There is no seatback entertainment on this aircraft. The A321 first-class features fully-loaded iPad-based in-flight entertainment, including TV shows and movies, handed out after take-off.
Total score: 91/110.
Have you tried the A321neo first class on Hawaiian Airlines?