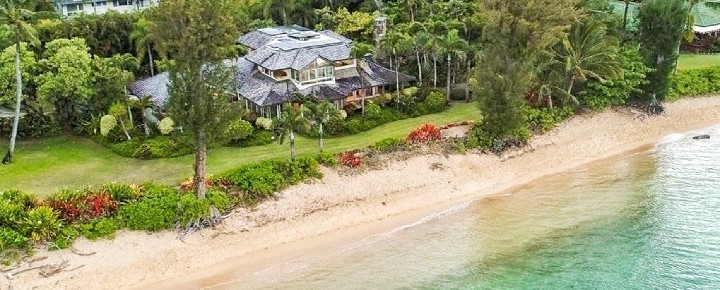 Sylvester Stallone built this featured Kauai property more than thirty years ago. It is perched on one acre of the most desirable north shore Kauai locations at Anini Beach, a Beat of Hawaii favorite. The iconic actor had the estate built for his family. It is located not far from Mark Zuckerberg's 600-acre property, which is near Larsen's Beach.
The home was recently listed at $8.5 million and may have actually already have a buyer. Stallone originally sold it in 1996 for just under $2 million and is still considered one of the finest homes on that Anini Beach stretch. Stallone developed other homes at Anini Beach at the same time as this one.
Views from the 3,638 square foot property include expansive Pacific Ocean vistas as well as the renowned Kilauea Lighthouse. For those on a budget, the listing at 4606 Anini Road indicates that with a $2.2 million down-payment, monthly payments clock in at a mere $32k.
Anini Beach. A top pick.
This is a popular swimming, snorkeling, walking, relaxing/picnicking, and windsurfing spot where, in the water, you might even rub elbows with Facebook's CEO.  The beach features many premiere residences, including one used in the 1992 film, Honeymoon in Vegas.
We love Anini beach for its isolated location, white sand, and coral reef that provides for a largely year-round calm ocean access, which is both unusual and very desirable on Kauai.
Visitors should note there is no lifeguard on duty. The beach is surrounded by one of Hawaii's most prominent reefs. There can be strong ocean conditions in the channels and outside of the reef, so, as always with the ocean, caution is indicated.
Oceanfront WSJ house of the year 2021 at Poipu Beach.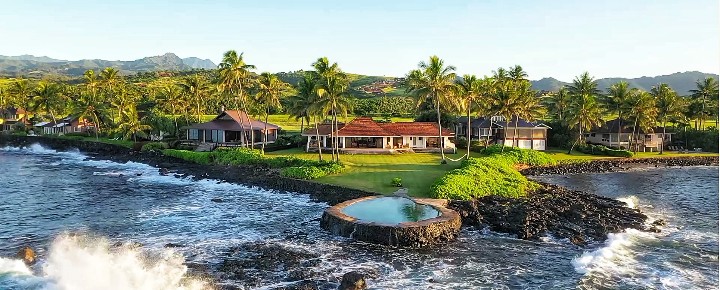 Earlier this year, we wrote about a fascinating and spectacular Poipu Beach property that had just won the Wall Street Journal 2020 House of the Year award and sold for $10.5 million, which was a new record for Poipu Beach. It has a celebrated past associated with the rich and famous.
Not far from Beat of Hawaii headquarters, yet literally a world away, the home has been owned for over half a century by the same Los Angeles family. Originally listed for $18.5 million, the home sold this week to undisclosed buyers. The house, dubbed Ka Lae Kiki (the breathtaking point), is a unique oceanfront Kauai estate, which had not been sold in over 50 years.
The home won the WSJ award based on 293,000 ballots cast. In 2019 a modern Oahu home was named champion, and in 2018 another villa on Kauai took the prize.
$12,550 to $17,000 weekly with 500 feet of ocean frontage.
The house has been available to rent by Jean and Abbott Properties. The property features a humble street-side oddly juxtaposed with its majestic ocean-side and consists of 4 bedrooms and 3.5 bathrooms. It has 3,324 interior square feet set on 37k square feet of land situated directly on the Pacific Ocean at Poipu Beach. The current home sits on one of the biggest oceanfront stretches at Poipu.
A unique feature is the incredible saltwater pool embedded in lava rock at the property's ocean edge and is one of the only such pools in Hawaii. Prior guests of the home have included George C. Scott, John Wayne, and many other famous seclusion-seekers.
Video taken at WSJ house of the year.
Lead image courtesy of broker HawaiiLife.
Updated 10/9/21.
Disclosure: We receive a small commission on purchases from some of the links on Beat of Hawaii. These links cost you nothing and provide income necessary to offer our website to you. Mahalo! Privacy Policy and Disclosures.