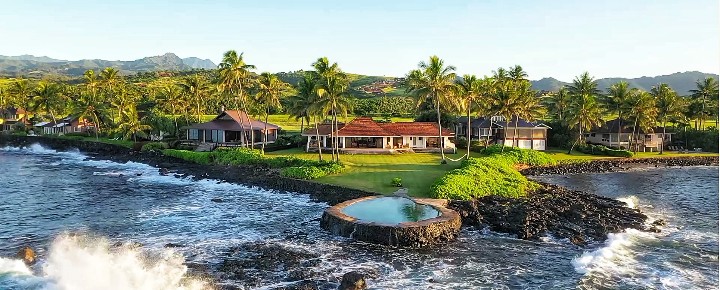 A fascinating and spectacular Poipu Beach property that just won the Wall Street Journal 2020 House of the Year award also sold for $10.5 million, a new record for Poipu Beach. It has a celebrated past associated with the rich and famous.
Not far from Beat of Hawaii headquarters, yet literally a world away, the home has been owned for over half a century by the same Los Angeles family. Originally listed for $18.5 million, the home sold this week to undisclosed buyers. The house, dubbed Ka Lae Kiki (the breathtaking point), is a unique oceanfront Kauai estate, which had not been sold in over 50 years.
The home won the WSJ award based on 293,000 ballots cast. In 2019 a modern Oahu home was named champion, and in 2018 another villa on Kauai took the prize.
"Ka Lae Kiki" has been a Kauai vacation rental property.
With listed rates from $12,550 to $17,000 weekly, we don't know if it will continue to be rented by Jean and Abbott Properties.
The estate features a most humble street-side oddly juxtaposed with its majestic ocean-side and consists of 4 bedrooms and 3.5 bathrooms. It has 3,324 interior square feet set on 37k square feet of land situated directly on the Pacific Ocean at Poipu Beach. The home is on land originally purchased before statehood by Judge Philip LaVergne Rice, Hawaii's Territorial Chief Justice.
In 1957, the property was acquired by LA's Lowry McCaslin, whose family later hired renowned architect Jim Morton to redesign the residence. The current home sits on 500 feet of ocean frontage, which is among the biggest such stretches at Poipu.
A unique feature is the incredible saltwater pool embedded in lava rock at the property's ocean edge and is one of the only such pools in Hawaii. Prior guests of the home have included George C. Scott, John Wayne, and many other famous seclusion-seekers.
Disclosure: We receive a small commission on purchases from some of the links on Beat of Hawaii. These links cost you nothing and provide income necessary to offer our website to you. Mahalo! Privacy Policy and Disclosures.