Allegiant Air's announcement of the mainland cities from which it will serve Hawaii could come at any time now. When that occurs, Bellingham (Washington) will almost certainly be among them.
I believe that will be true even though it may break with Allegiant's tradition and policy of operating non-competing routes.  Alaska jumped on the Bellingham to Hawaii bandwagon earlier this month when it announced service to Honolulu.
Bellingham is a small regional airport in Northwestern Washington state. Many of you from outside the area are just becoming familiar with this secret gem.
There are many draws to Bellingham but two stand out in terms of importance to Hawaii:
1.  Canada: Bellingham is 22 miles from the border

Western Canada is a growing and important player in the Hawaii tourism market.  The cold winters and relatively close distance and short flying time to Hawaii, makes it an easy choice.  The problem has been that airfares from Canada to Hawaii (mostly via WestJet and Air Canada) are too high. As a result, western Canada remains a relatively untapped market with huge potential for the victor.
Here are examples of current non-stop airfares from Seattle and Vancouver, B.C.:
Seattle to Honolulu or Maui $359
Vancouver to Honolulu $421
Vancouver to Maui $497
According to Allegiant, a majority of their current Bellingham customers are already Canadians who drive across the border to save money on airfares.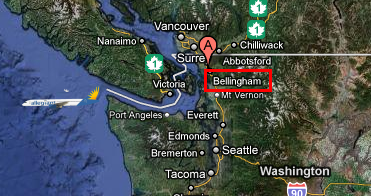 2.  Sea-Tac Airport
Seattle's Airport is relatively expensive and congested, although their new light rail is helping the situation. For those living north of Seattle, driving the extra distance to Bellingham for cheaper flights and parking is a good option.  The demand for Hawaii flights from the Seattle area thusfar seems to be unending. Service from Bellingham will draw from Seattle and neighboring western Washington, in addition to Western Canada.
Bellingham Airport
The regional airport is growing exponentially.  It is still small and cheap however, with $9/day parking vs. $28 at both Seattle and Vancouver. Until now serving only regional flights as far as Las Vegas, Bellingham was recently ranked as the cheapest US Airport based on average airfare (with Honolulu being the second most expensive).  Even with distant Hawaii services added, it is likely to remain one of the cheapest airports in the U.S., thanks to Allegiant's creative price and rock bottom base airfares.
Bellingham will soon complete rebuilding of its runway and taxiway to accommodate larger planes, such as the 757's which Allegiant acquired in order to serve Hawaii.
The next word
Allegiant has said they will announce their first Hawaii airport selections by the end of September. That will be for services using the first two planes which they received earlier this year. They had hoped to have Hawaii service under way before year end. Rumors I've recently heard however indicate some delays in their first ETOPS certification process, which could push out their Hawaii start date.
Subscribe to our email updates.