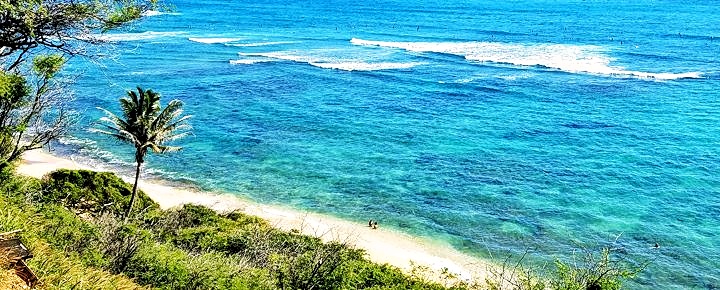 Could your next Hawaii vacation come with an unexpected perk, in the form of a tax credit or other financial assistance? That isn't out of the question it appears, as this prospect was just raised by behemoth Booking.com.
Glenn Fogel, CEO of Booking, recently said that the travel industry, outside of the airlines, wants and needs a stimulus package, and he might just be right on. He said, "I would like to see a tax credit for people to spend on travel…." That is not unlike incentives other industries have received, such as electric cars, he added.
Fogel analogized today's situation with what happened after Pearl Harbor.
"I don't believe people were saying how much does this aircraft carrier cost? We are in a war we have to win. We'll spend whatever it takes…" That was what was essential then, as travel is now.
By way of introduction, before coming to Booking, Fogel received a doctorate from Harvard Law School and an undergraduate degree from The Wharton School of the University of Pennsylvania. His company, Booking, has seen an 85% drop in its business in the past 60 days. The owner of brands including Priceline, Booking, OpenTable, and Kayak, just secured $4 billion in additional funding.
Globally, it is estimated that up to 75,000,000 travel industry jobs are currently at risk.
Fogel wants to see the governments "prime the pump" since travel is an important source of employment. "These are people who need to come back to the workforce…We need to stimulate our industry."
Speaking to what might sound like Hawaii's situation, Fogel said that travel bans and mandatory isolation periods had created travel "friction."
Does this seem viable? Something similar has worked before.
Rob (your co-editor) remembers this concept all too well. He once worked on the Targeted Jobs Tax Credit program that was designed to get people in high-risk groups (low income, youth, veterans, etc.) back to work. Employers were offered a tax incentive for hiring.
Beat of Hawaii:
The faster we can deal with the uncertainties including safety for residents and visitors, a decisive plan for reopening Hawaii, and removing the isolation period, the faster visitors will get back to traveling here, and the sooner our economy can recover to any degree.
On good news, we are already hearing from industry stakeholders who are seeing an uptick in bookings for the fall that might be replacing traditional Hawaii summer vacations.
Beat of Hawaii © photo on Oahu near Diamond Head.
Also see:
Hawaiian Airlines Parts-Out 717 and May Suspend Dreamliners.
Testing Visitors to Hawaii: Will It Work, When Will it Happen?
Disclosure: We receive a small commission on purchases from some of the links on Beat of Hawaii. These links cost you nothing and provide income necessary to offer our website to you. Mahalo! Privacy Policy and Disclosures.