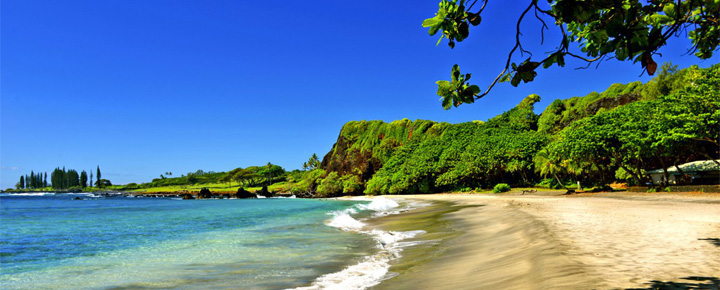 Updated 6/10/20 at 3 pm. The governor has just extended Hawaii's mandatory 14-day isolation through July 31 without much further clarification. We still don't know when it will end.
In the meantime, Lieutenant Governor Josh Green has said a deal may in the works for CVS pharmacies to provide tests to Hawaii bound travelers. Questions remain who will pay for those tests. Will it be passengers, the state, or some combination of both. And, will both the tests and results be readily available in order to comply with the anticipated 72-hour timing required. On just checking CVS' website, we found that testing for travel is not yet available. Lastly, Green said he thinks the system could have been in place which would have allowed the restart of mainland tourism as soon as July 15.
As Green pointed out, the ultimate decision on travel is in the governor's hands. Ige said there will be a layered approach coming with the reopening, whenever that is, and he again mentioned the controversial subject of safe travel corridors. This comes after he said last week that he would address the reopening of mainland travel this week.
Hawaii officials are continuing to suggest they would like, but will not be able to mandate, that visitors be tested 3 days prior to arriving. Testing would eliminate the 14-day isolation required for arrivals. We'll have to wait until later this week to learn exactly how this may come to fruition. In the meantime, we have a very good idea of what you can expect.
Alaska reopened to tourism this past Saturday. Hawaii's southern neighbor French Polynesia announced its July 15 reopening plans this week too, and while there are differences, there may be some distinct similarities to these in Hawaii's approach.
How is Tahiti reopening?
As of July 15, mandatory 14-day isolation will be eliminated. Instead, Tahiti will require testing before travel. They also plan to test visitors randomly during their vacations and track their whereabouts. Test results will need to be presented to airlines prior to flight. Immunity certificates will also be accepted. Testing on arrival will not be offered. We've heard that flights to Tahiti may be limited initially. We're not sure, for example, when Hawaiian Airlines will resume flights from Honolulu to Papeete. Flights to Tahiti are international of course, and thus different rules can apply there compared with US domestic flights to Hawaii.
Will Hawaii follow Alaska's model? If so, this isn't going to be easy. 
Starting last Saturday, Alaska requests that visitors test within 72 hours of travel to Alaska and present the negative results upon arrival. Their health department says, "We really want this to be easy… Get tested before you travel. Have your negative test result. Complete the travel declaration. Flow through this airport." Remember though that you could well be sitting on a plane with passengers who have not been tested as testing cannot be a requirement of domestic travel.
Alaska is also aware that in many states, testing still isn't available unless you have symptoms. That's a problem. Also, the time it takes for test results varies greatly. We just checked with Hawaii Pacific Health, and they could not confirm that testing is available yet for travelers from Hawaii to Alaska.
If you aren't able to test prior to arrival in Alaska, you must self-isolate until a negative test result can be obtained. Or, if you have a test, but it is within 5 days (not 3 days) prior to arrival, you won't be required to isolate, but you'll be asked to have minimal contact with others until results are returned. If you do test in Alaska, results are apparently being returned in about 48 hours, on average.
Making it all the more confusing, there are different rules for returning residents. In any event, all travelers are required to fill out a new Alaska health declaration form.
What's different in Hawaii?
Unlike Tahiti, Hawaii's visitors are largely domestic. What a state can require for travel from another state is limited and may be further tested in lawsuits. Hawaii cannot mandate testing as a prerequisite for boarding a flight. This means that a required 14 isolation period is likely to remain for those who do not have proof of testing. That appears to be the state's direction, as was Alaska's, although how that 14-day period would be enforced with a significant increase in the number of visitor arrivals, is far from clear. Remember too that some officials have contemplated a Hawaii travel bubble with other countries. We don't know what might happen to that controversial idea.
Is testing a viable first step to reopening Hawaii tourism?
The feasibility of implementing such a practice to tens of thousands of arrivals, either before departure or on arrival, remains questionable. And 14 days locked in an accommodation, not even able to buy groceries, is not feasible. As we've mentioned before, Oregon and Washington don't yet appear to have pharmacy testing available, and while California does, will it be adequate if required on a larger scale, such as for travel?
There are perhaps 1/2 million tests available daily in the USA for all purposes, whereas more than 2 million passengers a day would typically pass through airports alone. Scaling those numbers down for Hawaii, availability of testing may still not be adequate currently.
Beyond that, tests three days before travel raises additional questions. Experts say that some false-negative tests could permit infected passengers to enter. Nor would you be protected from potential exposure occurring on a domestic flight to Hawaii.
Testing won't replace other new health safety measures.
This includes maintaining appropriate distances, masks, temperature screening, and greatly enhanced procedures that include disinfecting and cleaning. That will include everything from airports and airplanes, to Hawaii hotels, car rentals, restaurants, and more.
Fewer Hawaii arrivals could help at the start.
It is likely that at the beginning, given obvious concerns and unknowns, visitors to Hawaii will build slowly over time. That could give us the ability to adjust and come to terms with the new normal and establish longer-term, appropriate procedures. In the meantime, Hawaii travelers are going to need to be comfortable with distancing, and other health protocols for the foreseeable future.
We look forward to hearing from you. Mahalo.
Disclosure: We receive a small commission on purchases from some of the links on Beat of Hawaii. These links cost you nothing and provide income necessary to offer our website to you. Mahalo! Privacy Policy and Disclosures.