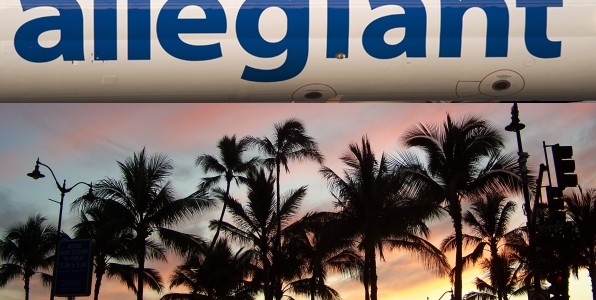 All signs point to Allegiant taking the wraps off their long awaited Hawaii service in the very near future. As you know this has been in the works for years. The gossip mill has been churning again recently and I've been hearing from various people both whom I know and anonymously.
Here are some of the indications and where we are likely to see them flying to and from. Get our your crystal ball and chime in as to which cities will be first:
California is in the mix
The two most likely airports are Stockton and Fresno. We've discussed these repeatedly and all indications are that at least one of these will be in the first announcement.
Other possible markets
A second tier Oregon airport, possible Eugene or Medford.
A Southern California airport, possibly Santa Maria, Santa Barbara or San Luis Obisbo.
And the long shots
Others that I believe are not likely at this time include:
Oakland – which has too much competition.
Ontario – which has never worked for Hawaii service.
Bellingham – it barely works for Alaska Air but enough so to probably keep Allegiant out.
Phoenix-Mesa.
Service Starts This Summer
Allegiant has continued to reaffirm that they will be flying to Hawaii by Summer 2012. That's coming up very quickly now and frankly I expected there would have already been an announcement. Airlines typically want a little longer to ramp up, especially for such a new flight model. On the other hand, none of the Hawaii players wants to tip their hand, which at least in part explains the delay. They are also awaiting final government approval at the moment.
Late last month I learned of the first job posting by Allegiant for Honolulu.
Allegiant's 757's, which were on lease outside of the US, have been repainted to the Allegiant brand and have recently been spotted.
No daily service – 2 or 3 times a week

Allegiant is likely to fly only two to three times a week from any given airport. That is a model they've used successfully before and seems almost certain to be deployed in Hawaii as well. That also would allow them to serve more cities if desired.
Which Hawaii Airports
I'm not sure on this one. Any thoughts? My prediction is Honolulu, but I'd not be surprised to see other islands in the mix.
---
Free VIP Alerts drawing tomorrow
Win a year's worth of Beat of Hawaii's instant deal notifications for just your city. If you're not already a Facebook fan, here's a good reason to give it a try.

Disclosure: We receive a small commission on purchases from some of the links on Beat of Hawaii. These links cost you nothing and provide income necessary to offer our website to you. Mahalo! Privacy Policy and Disclosures.