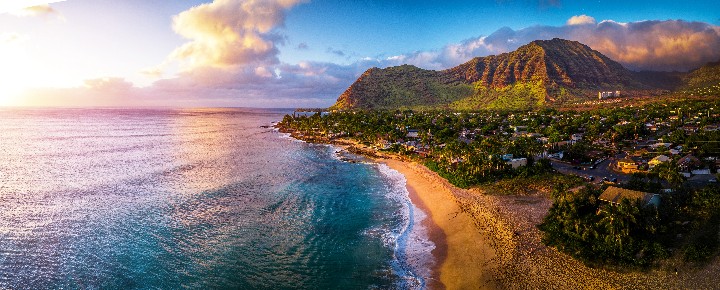 No doubt about it, Hawaii is hot as ever. These airlines reminded us today how much they value your Hawaii business. Our heads are left spinning as Hawaii travel goes from zero to a hundred seemingly overnight. Here's what's happening in terms of flights to Hawaii.
HawaiianMiles no longer expire.
First, bellwether Hawaiian Airlines just announced a significant and helpful change to their mileage program HawaiianMiles. "Effective immediately, your HawaiianMiles will never expire." That according to Senior VP of Marketing, Avi Mannis.
While on the surface, this may seem minor, it is not. How many of you have lost significant miles with airlines due to onerous and difficult to remember expiration rules? We both have.
This comes at a great time since most of us did not fly in the past year during COVID. Avi said, "We are committed to emerging from this crisis a stronger airline, even more deeply committed to guests and our purpose of connecting people with aloha."
This comes as airlines including Hawaiian have removed change fees from all but their cheapest-priced tickets.
American Airlines stakes out east coast to Hawaii.
Coming as somewhat of a surprise, American Airlines has just increased its Hawaii foothold substantially. Starting May 6, the carrier will offer daily widebody service between their hub at Charlotte and Honolulu. It will operate at least through December 28, 2021, and longer if the demand is adequate.
Hawaiian Airlines is in the midst of a major route expansion.
Announced last December, Hawaiian has new flights operating between Honolulu and Austin, Orlando, and Ontario and between Maui and Long Beach.
Long Beach to Maui flights started last month on narrow-body A321 aircraft. This adds to the prior Long Beach to Honolulu route.
Ontario to Honolulu started last month, also on narrow-body A321 aircraft. This resurrected route has been asked and helps visitors from the Inland Empire and Orange County.
Orlando to Honolulu started in March on wide-body A330. This complements Hawaiian's other long-haul domestic routes, New York and Boston. The flight will operate two to three times weekly.
Austin to Honolulu starts next week on wide-body A330 aircraft. This route is a first to the southwestern part of the country for Hawaiian.
United Airlines Hawaii flights expand.
On May 6, United will bring back long-requested nonstop service between Orange County and Honolulu. The flight departs SNA at 830 am and arrives in Honolulu at 1130 am. Return is from Honolulu at 1250 pm, arriving in Orange County at 910 pm. The flights are onboard Boeing 737-700 aircraft.
The airline said, "With the additional new flights, United will offer nonstop service on more than 20 routes between the mainland and Hawaii."
Chicago to Kona flights on United starts June 3. These are the first nonstop flights ever on the route, which will operate Thursdays through Sundays.
New York to Maui flights on United is also set to begin June 3 and operate Thursdays through Sundays only as well.
Southwest Airlines Adding Flights.
The airline recently started flying nonstop between Long Beach and Maui. This is Southwest's second Hawaii route from Long Beach.
Disclosure: We receive a small commission on purchases from some of the links on Beat of Hawaii. These links cost you nothing and provide income necessary to offer our website to you. Mahalo! Privacy Policy and Disclosures.