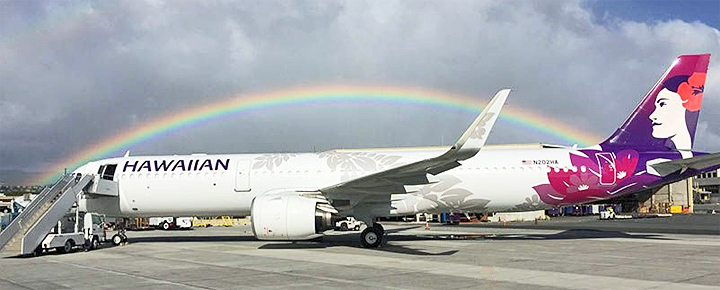 A Hawaiian Airlines flight diversion occurred on Monday when HA Flight 37 bound from San Diego to Maui, declared an emergency, then landed in Oakland.  Alex DaSilva, Communication manager for the company said that a cockpit light indicated a possible problem with one of the plane's two engines. With safety as their highest priority, the pilot diverted to Oakland.
The flight left San Diego at 825. By about 930, Oakland Airport became aware of the issue and likely diversion. An emergency was declared in order to receive priority for landing. The flight, with a total of 185 persons on-board, landed safely at 1050. It was then cleared and resumed its trip to Maui.
Flight 37 launched as daily nonstop service between San Diego and Maui on May 1, 2018, using the company's new Airbus A321neo aircraft. As far as we know, this is the first issue the company has had with the A321 aircraft since an early delivery airworthiness directive grounded one of its planes.
Fortunately, the flight wasn't significantly into its trans-Pacific crossing at the time of the problem. Once a flight reaches the approximate mid-way point across the Pacific, it becomes impossible to turn back due to fuel limitations.
Previously, you may recall that in August, a Hawaiian Airlines flight from Maui to San Francisco changed course in mid-Pacific to return to Honolulu. That as a result of an unruly passenger who had allegedly been drinking.
We've had near-diversions crossing the Pacific, due to medical situations, but never experienced an actual one. Passengers who were en route to their Hawaii vacations on Monday were undoubtedly upset to return to the mainland with the possibility of an additional travel delay.
Mid-Pacific Aircraft Diversions
Aircraft diversions are always an unwanted experience, albeit sometimes necessary for medical or safety reasons.
When flying to or from Hawaii, or anywhere over long stretches of ocean, diversions become far more complex than when flying over land. There are no diversion options between Hawaii and the US Mainland. Thus, consideration is largely based on the feasibility of returning to Hawaii or continuing to the west coast. The distance between Hawaii and the west coast, 2,500+ miles, represents the longest span without a diversion point in the Pacific.
You may recall that last year we reported on two mid-Pacific Hawaiian Air flight diversion incidents in a single week.
Have you ever experienced a flight diversion? 
Updated 10/24/18.
Disclosure: We receive a small commission on purchases from some of the links on Beat of Hawaii. These links cost you nothing and provide income necessary to offer our website to you. Mahalo! Privacy Policy and Disclosures.