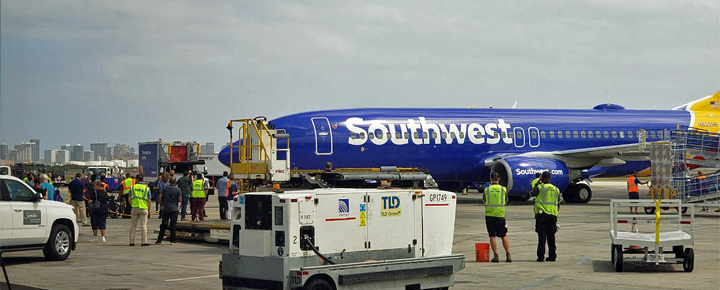 This St. Patrick's Day marked the arrival of the very first Southwest Hawaii inaugural flight. It landed at HNL just after 2pm and Beat of Hawaii decided to venture over from Kauai to meet the plane and check out the digs. After all, we started writing about Southwest Hawaii in April 2008! We are sharing our own photos with you together with many first look observations.
First, on Saturday there was another round of Southwest Hawaii deals with $99 fares each way this spring. On checking again just now, there are still a few dates available in May.
1. Inaugural flight.
Today's flight #6808 was from Oakland, and the 5 hour and 43 minute flight departed the West Coast at 11:26 PST. Tomorrow's return carries the uniquely appropriate #808. On arrival today, guests received a traditional lei greeting and a Hawaii gift bag.
We spoke with some of the deplaning passengers and heard a lot of excitement and enthusiasm about the flight, the service, and being in Hawaii. Special in-flight entertainment on today's inaugural flight included hula dancers who performed live on the plane across the Pacific. We were told there was also free live TV and messaging, and $8 all you can use Wi-Fi.
In the near future we plan to try flying Southwest, when the carrier begins flights to and from Kauai, and will provided a detailed trip report. We'll also share more information on additional flights very soon, so be sure to subscribe to our updates and not miss out.
2. Honolulu Airport celebration.
On hand was Hawaii Governor David Ige, president of Southwest Airlines, Tom Nealon, Exec. VP Andrew Watterson, and many other executives, plus, by our observation, perhaps a hundred or more Southwest employees from both mainland and Hawaii locations. To say it was celebratory and emotional was an understatement.
This event had been some 10 years in planning, and Tom Nealon told the audience that he cried when he saw the plane arrive. Tom noted that CEO Gary Kelly recently said "we are in this for good… we're in this for the long run, we aren't going anywhere, we're here to compete, and we are here to offer unmatched value and a quality product." He went on to say that in the next two months they will operate 28 daily flights to and from Hawaii, and that, folks, is just the beginning.
3. New terminal at Honolulu Airport.
Today marked the unveiling of the new Southwest terminal at HNL and it is a stunner and the best by far at the airport. Built together with the Hawaii State DOT, the terminal includes new open design holding areas with charging stations, beautiful restrooms, escalators and elevators.
There are some new dining choices. We saw a large new Starbucks, and a Kona Brewery, neither of which were open today. Hopefully more additions to follow.
Among the niceties at the new terminal, you'll find many charging stations located throughout the seating areas. Southwest is operating at ground level below United Airlines at the far side of the airport, at the opposite end from the inter-island terminal. They have gates G7 to G10 in the Diamond Head Concourse. The new Southwest ticket lobby is located in Terminal 2, Lobby 6, but we did not have time to check that out today.
Disclosure: We receive a small commission on purchases from some of the links on Beat of Hawaii. These links cost you nothing and provide income necessary to offer our website to you. Mahalo! Privacy Policy and Disclosures.