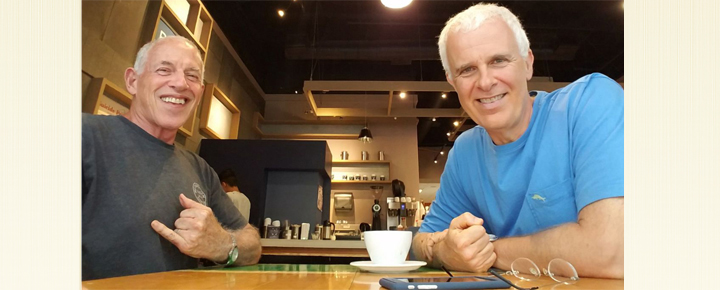 On Monday January 1, 2018, Beat of Hawaii marks a decade of publishing Hawaii travel deals. And what a 10 years it has been!
Beat of Hawaii has become the go to source for Hawaii travel deals. We're grateful to our supporters, many of whom have been along for the ride since early on.
Started as a fluke by us two gray haired entrepreneurs based on Kauai, Beat of Hawaii has published thousands of articles and is viewed millions of times yearly. We  appreciate the hundreds of thousands of regular visitors who receive our free email updates and those who follow us on Facebook.
Let us know the best airfare deal you found here and how long you have been a reader.
What Beat of Hawaii is about.
1. Hawaii travel deals. We scour the web for deals to and from Hawaii. Many, in fact most, of the deals we publish, are not promoted by the airlines. That is in part because the US Dept. of Transportation requires that airlines meet a minimum availability in order for them to promote sale fares. We, however, look for pukas (holes) of availability that give savvy readers a chance to get much lower fares.
2. Hawaii vacation planning tips. Among many other tips, we frequently update the popular six-part post, The Cheapest Time to Fly to Hawaii. In it you'll also discover  over 4,000 comments and 60,000 Facebook likes. It is our most popular post ever.
3. Hawaii airline news. We regularly report on the airlines that fly to Hawaii. Beat of Hawaii started writing about Southwest Hawaii flights over five years ago. Their flights will, at long last, materialize in 2018. Our Southwest updates are some of our most popular and one SWA post alone has over 60,000 Facebook Likes.
We're also covering the new game-changing Airbus A321neo fleet of planes now arriving at Hawaiian Airlines. In fact we'll be flying on the new plane in just over week and look forward to letting you know our candid thoughts.
4. Comments, questions and answers. We love hearing from readers. In tens of thousands of comments, you'll find nearly half of them are from us, answering visitors' questions. One caveat is that if you'd like us to answer personally, we request a please or thank you.
Arthur Frommer and Beat of Hawaii.
Some of you know that the Frommers Travel guru, and father of modern day independent travel, Arthur Frommer, has been a long time follower of Beat of Hawaii. It happened like this:
In April 2008, soon after we started publishing, Arthur came upon our website and shared it with his many fans. He said "If you're a fan of the Hawaiian Islands, you'll want to rush quick to the Beat of Hawaii." That mention forever changed things. It first resulted in a deluge of interest causing Beat of Hawaii's website to crash. Thereafter, we amassed a solid following that continues to grow to this day.
We have taken part in Arthur and (his daughter) Pauline's weekly radio shows and have assisted in helping find Hawaii travel deals for their audience. We are thankful to the Frommers and honored to consider them friends.
Beat of Hawaii Editors.
Founded by two Kauai residents, Rob Kvidt (right side of photo) and Jeff Tucker (left side of photo), Beat of Hawaii was featured in the book, "Ask Arthur Frommer." Our site has appeared frequently in international press including USAToday, TripAdvisor, NBC, ABC, Seattle Times, and Budget Travel, among others.
Mahalo to our readers!
Back to our Roots, the name Beat of Hawaii was inspired by Sonny & Cher….
PS: This post is actually a revision to the the very first post dated January 1, 2008. 
Disclosure: We receive a small commission on purchases from some of the links on Beat of Hawaii. These links cost you nothing and provide income necessary to offer our website to you. Mahalo! Privacy Policy and Disclosures.