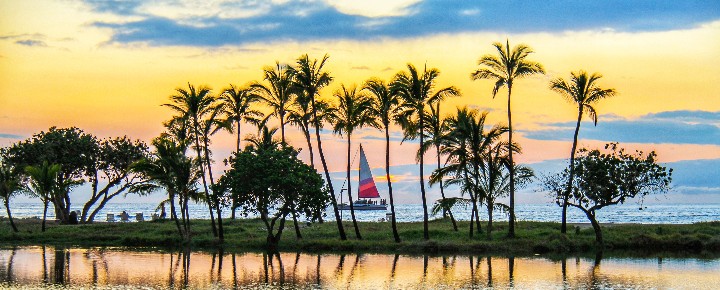 Great news for Hawaii visitors today as Lieutenant Governor Josh Green has said that he now expects Hawaii to reach 60% fully vaccinated in as little as one week. When that happens, Hawaii will drop all COVID testing and quarantine rules for fully vaccinated US visitors, although visitors will continue to use Safe Travels.
Until then, visitors must comply with Hawaii Safe Travels by obtaining a specified COVID test from a Hawaii Trusted Partner within 72 hours of departure for Hawaii.
60% of Hawaii residents fully vaccinated within reach.
Governor David Ige announced last week that the testing requirement for vaccinated domestic travelers would end once 60% of Hawaii residents become fully vaccinated against COVID. As of Thursday, that figure stood at 56%. Ige said, "At 60% fully vaccinated, the state will accept proof of vaccination as an alternative to testing for domestic travel."
Earlier this week, the state eased other travel requirements as all restrictions on interisland travel were dropped without regard to vaccination. Also effective this week, those vaccinated in Hawaii can enter Hawaii without further restrictions.
70% of Hawaii residents fully vaccinated is harder to estimate.
Ige said that "At 70% fully vaccinated, ALL travel restrictions will be dropped."
Hawaii's Emergency Management Director, Major General Kenneth Hara, said last week that he expected that 70% threshold would be achieved by mid-July. When that happens, travel to Hawaii would resume as it was before COVID.
Others in the administration, however, have indicated they believe that goal could take far longer to achieve.
New vaccine incentives.
A new incentive program recently went into effect to encourage those not yet vaccinated to get their shot to help the state achieve its goals towards reopening. It includes deals, discounts, and prizes for those vaccinated.
All Interisland travel restrictions were eliminated.
As of June 15, there will no longer be any restrictions flying between islands. That means no tests and no vaccinations are required when traveling solely between Big Island, Kauai, Maui, and Oahu.
International arrivals remain in question. 
There is almost certainly going to be a Safe Travels component that remains for international arrivals. That hasn't been determined yet, but Hara has mentioned that it is still under consideration. The lieutenant governor said that international arrivals would "Not be greenlighted for some time."
What about kids?
It appears that children ages 5 and up will still need to be tested for travel to Hawaii, as is currently the case.
Updated 6/17/21.
Disclosure: We receive a small commission on purchases from some of the links on Beat of Hawaii. These links cost you nothing and provide income necessary to offer our website to you. Mahalo! Privacy Policy and Disclosures.