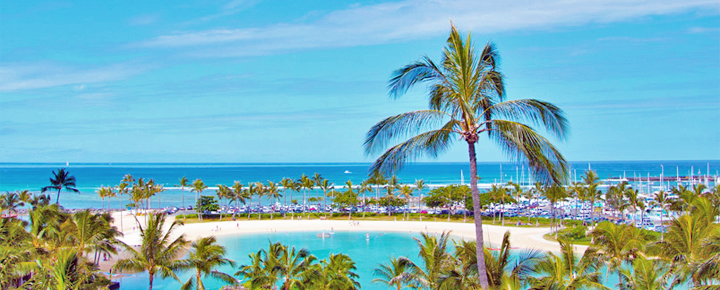 First and foremost we want you to snag the very best Hawaii travel deals. Once you've booked your ticket on Hawaiian Airlines,  Alaska Airlines, Southwest Airlines or your favorite carrier from the mainland, here are some tips to help keep things on track. Learn from our goofs. Then please add your ideas in the comments below.
Don't Make These 11 Hawaii Travel Planning Mistakes
1.  Not re-checking your itinerary multiple times.
Oh boy. Maybe this hasn't happened to you, but it has us. Previously, we've shown up for both a car rental, and on a separate trip, a hotel, and had totally missed the correct check-in day when we made the reservation.
Worse yet, on our last adventure, we received a call from Hawaiian Airlines that our flight (from Sydney to Honolulu) had been changed to another date. On checking, we suddenly realized that was a very lucky thing. The flight we had originally booked was not for the day we had intended to fly. Had it not been for their coincidental change, we would have had at the least, a very expensive change fee if we caught it. Otherwise we would have missed the flight entirely.
2. Packing a guidebook.
Use your smart phone or tablet instead. Check can check your local library too for free Hawaii travel guide downloads. Our personal favorite Hawaii guidebook series, Hawaii Revealed, is available as an app or eBook.
3. One-stop shopping and inflexible dates.
For 2020, a winter, or after spring break getaway can save compared with mid-summer. It's a time when Hawaii hotels are looking to put visitors' "heads in beds." Weekend flights generally cost more too, so if you can travel Monday through Thursday, you'll save significantly there too.
Don't be impulsive and buy everything on the first bite. Thing accommodations and car rentals. Look around. This is a shell game, deals are rarely found in the same place twice, and there could be a better deal waiting for you to discover. We're tracking and sharing cheap flights to Hawaii and other Hawaii deals as we have done for more than a decade.
4. Over-packing and forgetting important items.
Make sure your phone is ready for all of those great Hawaii beach photos and videos. Bring the electronics you need for your laptop, cell phone and camera. We don't go far without our Anker portable charger. Choose one that is powerful enough while still being small and easy to carry. .
Pack light and read our 11 baggage tips. It's Hawaii and we're casual here. Many of our hotels and most vacation rentals have on-site laundry facilities. Shop stores in Hawaii for reef walkers, sunscreen, snorkel gear and more.
5. Placing undue trust in travel reviews.
What a difficult subject. We can't live without them and yet we simply can't have confidence in them the way we once naively did. We continue to believe that with success or failure being based in part on reviews, perhaps up to one-half of all travel reviews are financially motivated.
At Beat of Hawaii we are using every source we can find to triangulate reviews (Yelp, TripAdvisor, Google and more), and always keep in mind that a significant percentage of the reviews are fake. Have you tried using FakeSpot? We use it every day. It purports to help in finding fake reviews. With every review, we try to sift through the rubbish to find the gems. There is simply too much at stake for hotels, restaurants and tourist attractions for us to think that they are always leaving reviews to chance.
6. Staying at budget hotels.
Before traveling "budget style" check for hotel deals. Sometimes the better hotels are only slightly more per night higher than 2-star clunkers. We also try to book directly with hotels and skip the middleman. Another highly recommended value option is Hawaii vacation rentals from Airbnb and from professional vacation rental management companies.
7. Forgetting to recheck prices on cars, air and hotel.
Check to be sure prices haven't changed from the time of booking to the time of travel. As a result, it may be possible to get airline credit, or otherwise improve rates. It takes a little time, but can be well worth it. We have sometimes saved 50% by re-booking our car rental the day before travel. Have you read our just updated guide to 2020 discount Hawaii car rentals?
8. Reserving hotels more than 90 days in advance.
Best deals on hotels are almost always within the three months prior to departure. The exception is peak season during holidays and summer. Deals can get even better in the final 30 days. At 90 days, hotels review their pricing model in relation to the number of firm bookings. At that point they're likely to make modifications, or use distribution tools (online travel agencies) to help dispose of excess inventory.
9. Not checking terms and conditions, ancillary fees and carefully evaluating your rental car for damage.
When you enter into a contract for airline tickets, car rentals, hotels or any travel component, you need to read and understand the terms before paying. That includes cancellation policies as those have been changing a whole lot recently.
To avoid sticker shock on your trip, make sure you've factored in the recently increased checked baggage charges, resort fees, parking, etc.
Before driving your rental car off the lot, check it thoroughly and note any damage you see. Even if you're tired from your flight, don't forget to do this. Have everyone help. PS: check the gas too.
10. Forgetting the best tools to monitor deals.
Sign up for alerts from all your favorite hotels, airlines, etc. Get them via email, Facebook or Twitter in order to get first notification. Subscribe to our free Hawaii deal alerts at Beat of Hawaii.
11. Island hopping on a short or value vacation.
Consider that you will lose at a minimum 4 hours from your itinerary to change islands. If you are new to Hawaii and/or want to see most of the islands, a one-week NCL Hawaii cruise might be a far better fit. Another compromise is to stay on Maui and visit two islands with a quick and fun ferry to Lanai.
Disclosure: We receive a small commission on purchases from some of the links on Beat of Hawaii. These links cost you nothing and provide income necessary to offer our website to you. Mahalo! Privacy Policy and Disclosures.