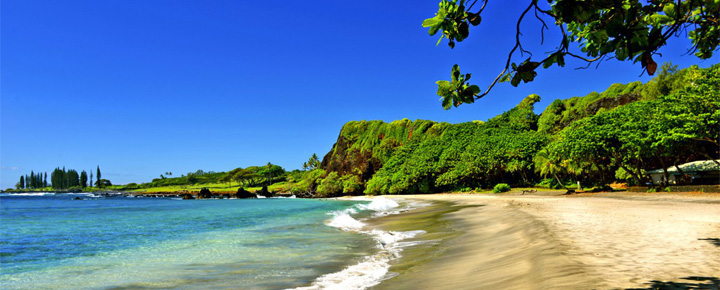 While we're waiting for more Hawaii deals for late spring, summer and fall, here's a chance to contemplate reasons we love Hawaii and continue to seek it out. After all, isn't that why we follow Hawaii travel deals in the first place? Please add your favorite things about Hawaii below. The list is endless! Here are some of our most memorable experiences for you to try.
1. Visit Iolani Palace in Honolulu and learn more about Hawaii history. Dating back to 1882, this is the only royal palace in the United States. Choose between a guided or self-guided tour. If you buy the Go Oahu pass, your admission fee is covered.
2. Drive the Road to Hana and don't turn back. That way you will end your day in Upcountry Maui. On Maui you can drive around most of the island while remaining near the ocean's edge.
3. Drink Hawaii coffee. We are the only state that grows it commercially. From small Ka`u and Kona farms including Hula Daddy and Rusty's Hawaiian, to the state's largest coffee plantation on Kauai, there is commercial coffee that is grown on all of the major islands. Our coffee aficionado tendencies unquestionably lean to those from the Big Island.
4. Make time to visit Mauna Kea, the dormant Big Island volcano, which is generally considered to be the world's highest mountain at 33,000 feet, when measured from its base (below the ocean). It is also the site of winter skiing. The summit is located above much of Earth's atmosphere and water vapor, and thus provides an ideal location for its renowned observatories. The volcanoes serve to protect Hawaii by helping break up passing tropical storms.
5. Look for Mt. Waialeale on Kauai, which is among the rainiest places in the world (especially of recent), averaging nearly 40 feet of rain annually! Luckily visitors don't stay there.
6. Experience our many Hawaii beaches which are considered public. Access to some of them, however, is only via private property or the ocean. Which beaches are your favorite? Some of ours are Hanalei Bay (Kauai), Hamoa (Maui), Hapuna (Big Island), Sans Souci (Oahu) and Papohaku (Molokai). Also read our recent post Best Beaches in Hawaii.
7. Taste Hawaii pineapple. We grow some of the world's best, and at one time produced a significant part of the world's supply. They are easily grown at home in Hawaii by simply sticking the crowns in the ground. Unfortunately, labor costs have reduced our competitiveness with foreign producers. Remember that you can bring Hawaii pineapples back with you from your next trip. Pick healthy looking ones up at any grocery store or farmers market.
8. Enjoy less variability in sunrise and sunset. So even in winter it won't be getting dark until 6pm or later. Hawaii has a unique time zone, known as Hawaiian Aleutian time. We are located at GMT-10 and we do not participate in daylight savings. That's especially important later this week when mainland time changes. The time difference between Hawaii and the U.S. mainland (west coast) is 3 hours in summer but only 2 hours in winter.
9.  Find near perfect climate. Our winter to summer temperatures vary little. In most cases from the high 60's to the low 80's. So you will rarely be too hot or too cold! Hawaii weather is just perfect and air conditioning and heating are seldom required.
10. Come to the most isolated islands in the world for a true getaway from everyday life. The Hawaiian Archipelago, once known as the Sandwich Islands, consists of over 130 land masses that stretch over 1,600 miles from north (the Kure Atoll) to south (the Big Island). The name Hawaii comes from the largest of the land masses, the Big Island.
11. Visitor William adds: I am a resident of Kona and I think you left off the most magical piece of Hawaii – Kilauea Volcano on the Big Island, the active one!!!! And Waipio Valley would be on my list, as well. We concur.
Beat of Hawaii photo at Hamoa Beach Maui.